Rustay shines when it matters most
Runner's good deed speaks to her character and compassion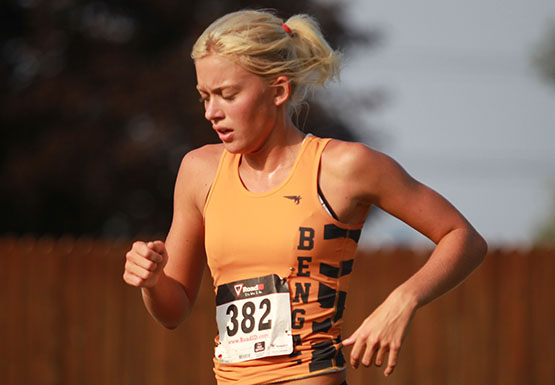 Kaylea Rustay remembers the long ride to Pawling, N.Y. It poured so hard that she couldn't see out the window of her high school coach's car.
It was early November 2010, and Rustay, then just a sophomore at Cheektowaga's John F. Kennedy High School, was traveling with her coach and her mother to the New York State championship race in Pawling, a small town in Duchess County, near the New York-Connecticut border.
They left in the early morning, the day before the race. When they arrived in Pawling, Rustay was so nervous that she could hardly eat. She was slotted to come in 12th place out of 107 runners.
Rustay crossed the finish line in 62nd place. The result was far from what she had expected, and she noticed something strange about the crowd's reaction.
As Rustay finished, she heard the crowd gasp, followed by applause. There's applause for every runner that finishes, but it's usually scattered, from the runner's coach or parents or teammates. This time, everyone was clapping.
A JFK assistant coach had tears in her eyes.
Why is she crying? Rustay thought, fighting back tears of her own, so disappointed was she at finishing so far from where she had hoped.
"I thought I let my coach down, let my team down, let my school down," Rustay, now a freshman on the Buffalo State cross country team, said. "I was supposed to medal."
Then Rustay's mother walked up to her.
"Do you know what you just did?"
•••
Rustay runs a lot. She always has. If you call Rustay's cell phone and she doesn't answer, her message machine will play a custom recording she made as a freshman in high school.
"Hey, it's me, Kay," the message starts. "I'm either running, about to run, or doing something that involves running. Whichever it is, leave a message and I'll get back to you later."
As a kid, Rustay's friends and family knew she was a talented runner right away. They called her "the deer." But she didn't start running for the cross country team until she was in eighth grade — and she only did it to keep herself in shape for sprinting for the track team.
"My freshman year of high school, my coach said for better endurance I should do cross country," Rustay said. "So my freshman year, I did it, (made the) state championships, and never sprinted again."
Born into a big Polish family, Rustay lived in Kentucky for 11 years before moving to Western New York. Growing up in the south, she was always taught to help people, and still practices 'southern hospitality.'
"You hold the door open for old people, you always say please and thank you, you treat people the way you want to be treated," Rustay said. "That's how I was raised."
The competitive nature of cross country sometimes puts Rustay at odds with those family values.
"People throw elbows, they'll spike you in the Achilles," Rustay said. "They'll just do anything to get an advantage. Why are we being so vicious? I don't know. I just wasn't raised that way.
"The race will finish. Care about the people that are in the race."
•••
It was sunny on the day of the state championship race, and there was no wind. The course at Pawling circled a pond and cut through an open field, went over a hill and through a heavily wooded area before circling back toward the starting line. The trees were still changing in late fall.
"It was just beautiful," Rustay said.
It rained the night before, and the course was muddy, meaning the runners would have to wear longer, 3/4-inch spikes. But Rustay wasn't worried about that. Her nerves were calm now, and she was ready to start.
About a mile-and-a-half into the race, Rustay could see the hill looming just around the bend. When she turned the corner, she saw that the hill was bigger than she thought.
"It was like a wall," Rustay said. "You're looking at it, and it's like a ski slope. I was like, am I actually supposed to go up this mountain?"
On her way over the mountain, Rustay fell. Her hip had dislocated out of place, and she collapsed in a heap as the other runners passed her by. One of them stepped on her, leaving an imprint of size eight-and-a-half cleats in her lower back — with 3/4-inch spikes. Her back was bleeding.
"That was a mile-and-a-half into the race, dead center, and I had to push forward," Rustay said. "So I was gimping along, and when I turned the corner, I was on the straightaway, and I saw a girl, not even five feet away from the finish line, crawling."
•••
Sixteen days after the state championship race, a Lutheran minister who runs a religious website put his daily sermon online. It began with a Biblical quote:
Do you not know that in a race all the runners compete, but only one receives the prize? So run that you may obtain it. 1 Corinthians 9:24
"Now I don't know who won the race that day," wrote the minster. "I don't know the name of the runner who managed to walk away with the first-place trophy, but I do know that Kaylea Rustay is a winner in my book.
"Her caring for another competitor, her willingness to show compassion is a rare thing in sports or anywhere else. She ought to be commended. Indeed, Rustay has been thanked by coaches, parents and the girl she helped.
"Good!"
•••
Buffalo State cross country coach Dustin Dimit was already recruiting Rustay before he read in the news about what she did at the state championship race. He didn't care that she finished 62nd.
"I love seeing things like that where kids go out of their way to help a competitor, especially in a state championship setting," Dimit said. "It's easy to just be about you. That definitely said something about her character."
Dimit said that Rustay has already had an impact on the program, despite being a commuter and a freshman. Rustay helps keep the team close, setting up trivia nights at Applebee's and games of bowling.
"She's a great girl," Dimit said. "She's been a great teammate, and has helped to make the girls team even closer."
•••
Rustay said she doesn't usually focus on anything but that "giant line that says 'Finish.'"
As she approached the final stretch, still limping, she saw a crowd of people by the chute, the straightaway leading to the finish line. Let's just get through it, she thought.
Then she saw Molly Shine, a competing runner, collapsed off to the side, crawling on her hands and knees. Shine suffers from exercise-induced asthma. She looked sick and in pain.
Rustay watched as at least 20 runners passed Shine by without giver her so much as a glance.
"Being five feet away from the finish line and not being able to make it, there's got to be something seriously wrong," Rustay said.
Without even thinking, Rustay knew she had to help. After all, that's how she was raised.
So she stopped, wrapped her arms around Shine and lifted her up, pulling on the back of her shirt. But because of her dislocated hip, she couldn't physically pick Shine up. Instead, Rustay tried to motivate her.
"We're going to get through this," Rustay told Shine, as they both inched closer toward the finish line.
That was enough. Shine told Rustay she could do the rest on her own, and she crossed the finish line just after Rustay.
Shine was surrounded by coaches and medical personnel — they were waiting for her after the finish line, but couldn't go onto the course because that would disqualify her —and taken to a local hospital to be treated for her asthma. She would be fine, and now runs for Division I Boston College.
Rustay didn't even realize the magnitude of what she had done until she saw herself on the local news a few days later.
"People came to me and said I changed the sport, at least in Section VI," Rustay said. "You see the news, and people are helping each other now. They point to me and say I got the ball rolling."
Leave a Comment