Football's losing streak now at four games after blowout loss
Bengals fall to 0-3 in conference play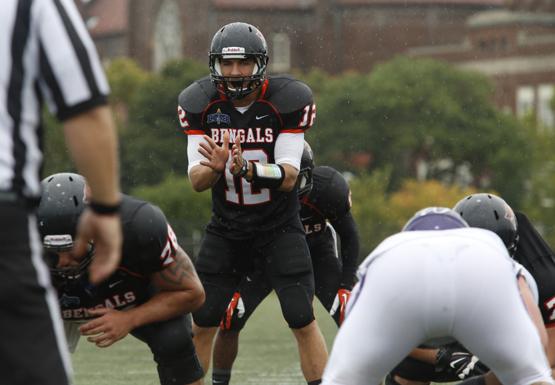 Despite scoring the game's first touchdown, the Buffalo State football team fell to Salisbury, 34-6, on Saturday, extending the team's losing streak to four games.
The Bengals are now 2-4 overall and have dropped their opening three conference games.
"I'm disappointed," head coach Jerry Boyes said. "Frustrated is probably a better word because we take turns, individually, making some mental mistakes at the worst possible time."
The Bengals' defense held the Sea Gulls on fourth down to open the game, giving the ball back to the offense at their own 35-yard line.
The offense took advantage, driving the length of the field and scoring on a 30-yard run by quarterback Casey Kacz. Alex Debbins' extra point attempt was blocked, marking the fourth time in three games that Debbins has missed an extra point or had it blocked.
"It was definitely a change of pace and we came out firing," defensive end Brian Greene said. "The defense had a big stop after a long drive and the offense came out (and scored), so that was a nice change-up."
Coming into Saturday's game against Salisbury, Buffalo State had been outscored, 68-7, in the first quarter of its first five games.
The Bengals hadn't scored first all season, hadn't held a first-quarter lead and the Bengals' only first-quarter touchdown of the year came in Week One against Cortland.
The first-quarter score against Salisbury was all the offense Buffalo State could muster, however, and the Sea Gulls went on to score 34 unanswered points to finish the game.
Salisbury was dominant on the ground, amassing 404 rushing yards. Sea Gulls running back Jerome Johnson and quarterback Joey Jones each had over 100 yards rushing on the day, and seven different Sea Gulls had at least 20 yards on the ground.
"There were a whole bunch of missed assignments," Greene said. "People weren't lined up the way they were supposed to, it just didn't seem like our heads were in the game."
Buffalo State did not force Salisbury to punt once all game. Despite two defensive stops on fourth down, Boyes said that the Bengals just didn't have an answer for the Sea Gulls' offense.
"They had their way with us offensively," he said. "… Defense is assignment driven. You have to do your assignment and then help out. If you don't do your assignment, the defense is shot. It's completely shot, because there's a hole there and the offense will find it."
The Bengals also continued their turnover issues Saturday. Kacz threw three interceptions for the second game in a row. Buffalo State has turned the ball over 14 times in its last four games, something Kacz said needs to be corrected in order for the team to snap its losing streak.
"I threw a few interceptions, and those kill drives," Kacz said. "We opened up the second half with a 15-play drive, got ourselves in a fourth down and I kind of forced the ball in there. Looking back on it now, that was a huge drive that could change the whole game."
Looking forward, Buffalo State will take on Frostburg State at home Saturday. Despite the Bobcats' 1-4 record, the Bengals' defense will face another stiff test, this time in the form of Frostburg quarterback Ken Emmons.
Emmons is averaging over 300 yards of total offense per game, including 74.2 rushing yards per game. He has 12 touchdowns on the season, and the Bengals will need to find a way to slow him down if they hope to snap their losing streak.
"We have to stop this addiction of (losing)," Boyes said. "Are we used to losing? I sure hope not. We'll find out Saturday."
Kickoff on Saturday is scheduled for 2 p.m. at Coyer field.
Leave a Comment