Doherty doesn't let injuries hold him back
Wideout on record pace this season after overcoming two serious injuries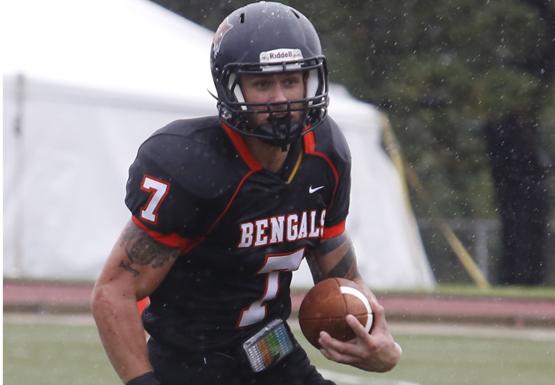 Mike Doherty remembers telling Buffalo State football head coach Jerry Boyes that he wasn't sure if he'd ever play football again.
Minutes after suffering the second of two horrific knee injuries, Doherty stood on the sideline with a bag of ice on his knee and crutches under his arms. His emotions bottled up, Doherty knew first-hand what he was in for, having already suffered a similar injury 18 months prior.
"That was the emotions speaking," Boyes said. "I know as I told him that day, 'Mike, this is not the time where you make a decision like that. You have to give it time.'"
Just a year removed from the injury that almost cost him his football career, the Tonawanda native is back playing, and is on pace to break multiple single-season receiving records for the Bengals.
Casey Kacz — Doherty's quarterback and friend — is one of many impressed by Doherty's play this season. Doherty and Kacz have been friends since the two were playing catch in little league football.
Kacz said not many people could have overcome what Doherty did, and he couldn't be more proud of his versatile teammate.
"Nothing has been easy for him at all," Kacz said. "To tear both of your knees and be able to still set records is quite an accomplishment for him. And I know personally if I could help him do that, that would definitely make me feel good because I want to give the kid as much as I can because he deserves a lot."
In March of 2011, Doherty suffered the first of his two knee injuries during a men's league basketball game. After grabbing a rebound, he took the ball down court and when he planted to go up for the shot, his left knee gave out and he collapsed to the ground.
After surgery, and six months of recovery and rehab, Doherty was back on he field and ready for the 2011 season. Though on the field and contributing, he didn't feel back to his normal self, something that was apparent to his coach.
"He was tentative," Boyes said. "Anytime you hurt something, particularly a knee, it's always in the back of your mind until you have gone through some practices and got banged around and tackled."
It wasn't until the end of the season that he started to feel like himself again and be 100 percent confident in his knee. But as one challenge was conquered, another was presented.
On Aug. 28, 2012, three days before the team's season-opening game against Cortland, Doherty ran a typical route in practice and caught a pass from Kacz. After catching the pass, he planted, turned, and knew right away his right knee was seriously injured.
"I knew," Doherty said. "I knew because I obviously went through it before. I knew that I tore it."
It was another complete blowout of his knee and Doherty again required surgery. With the 2012 season lost, Doherty had time to rethink and reassess his comments of not wanting to play anymore.
Doctors said it would take him 9-12 months to fully recover. He was rehabbing harder than ever, working harder than he ever had worked, and was trying to make a comeback quicker than anyone had expected.  He came back from both injuries in less than six months.
"As I was recovering during months two and three, (the doctors) were saying I was ahead of schedule," Doherty said. "They always said I was doing very well and when they released me at four months, they said I could do full contact."
The first night after the second injury, Kacz went over to his wideout's house to just sit and talk about how he was going to get through the rehab and get back on the field. Kacz spent a lot of time at the Doherty residence during those six months, to help him ice his knee, keep him company, and eat lunch and dinner together, all in an effort to motivate his friend to get back on the field.
Now back and fully healthy, Doherty, a junior, is being used in many different ways offensively for the Bengals. Kacz says he is one of the most humble guys he has ever met, and his coach couldn't be more proud of how he's come back.
"This is a real testimony to Mike's fortitude, his mental toughness, and something that's within that you don't coach," Boyes said. "People either have that or they don't."
Doherty has caught 38 passes for 669 yards and two touchdowns through six games this season. He needs 25 receptions and 484 yards over the final four games to break the single-season record in each category at Buffalo State.
"I do feel very fortunate," Doherty said. "In a way, when I'm out there I really don't even think about my knee injuries anymore. It would be nice to break the records but they're really not important to me. As a career, I've done well here and I've really enjoyed it, and I'm just hoping we can finish the season and win the last four games."
Doherty set many career offensive records at Kenmore East High School from 2005-08, including career receptions (77) and receiving yards (988). His senior year, he was also named to the All-Western New York Second Team.
Doherty still has another year of football eligibility remaining at Buffalo State, and while Boyes is excited he will have another year with him, he's also hoping that everyone on his roster has learned something from the hard work his star wide receiver has had to put in to overcome the adversity that he has faced.
"I hope there are guys that recognize (the work Doherty has put in)," Boyes said. "Certainly he is one of those good examples to look at and say 'jeeze, well if he can do it, I can do it.' It's what is inside. The great ones have it, the others don't. I'm glad that Mike has it."
Leave a Comment