Nightlife tradition threatened but not thwarted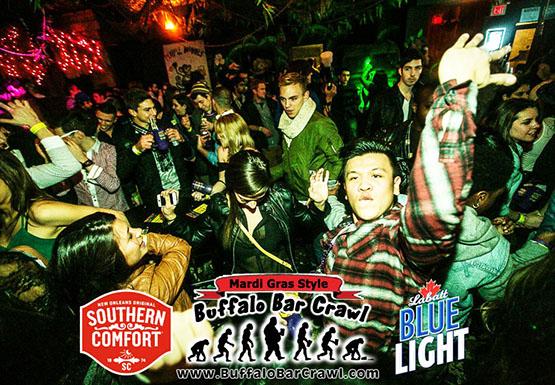 On the morning of Sept. 28, Peter Altholz, the owner of Buffalo Bar Crawl, woke up to a text message from the B District Chief of Police. It said that his Fall Bar Crawl, held the night before and drawing nearly 3,500 people, was not in the best interest of public safety and the police were going to make some moves to discontinue the events.
Altholz was backed into a corner with what he describes as "a perfect storm of awful," trying to figure out a way to keep the Annual Halloween Buffalo Bar Crawl alive. As of Tuesday, the event was back on – but the issue at hand, which is ongoing, has nothing to do with the event's actual participants.
The police were referring to the select non-participant individuals who come hang out and loiter in the streets late at night as Bar Crawl is going on.
"It started maybe around two years ago," Altholz said. "At the events we have our good, normal clientele that comes out, and then around 12:15, 12:30 on the dot, it's like a switch goes off and for whatever reason (another) element of Buffalo comes out and just hangs in the street, and it sucks because it's not people that are participating in the events."
Altholz thinks this happens because the events attract thousands of people, so the loiters, who he describes as, "inner-city, urban, kind of ghetto crowds," come out as well to congregate in the street and see what's going on.
"I'm sure they are just out there to hang out and have a good time because to them, that is what Bar Crawl is," Altholz said. "But it's a massive amount of loitering in the street, the police feel outnumbered, and the businesses obviously aren't a fan of it because they're scaring away their regular customers."
Altholz said he's been receiving backlash from the social media world, some accusing his company of racism, but he assures people that it has nothing to do with race, and that it's the police department's call, not his.
Leah Braymiller, a student at the University of Buffalo, who has participated in four of the Bar Crawls, said they are fun and a nice change from what her and her friends usually do on weekends, but she has noticed the uninvited loiters as well.
"From my experience, as the night progresses more people that are not part of the Bar Crawl end up hanging around, and those are the people that cause the problems," Braymiller said. "If there was a better way of keeping crawlers and the general public separated, they may have more success and fewer problems."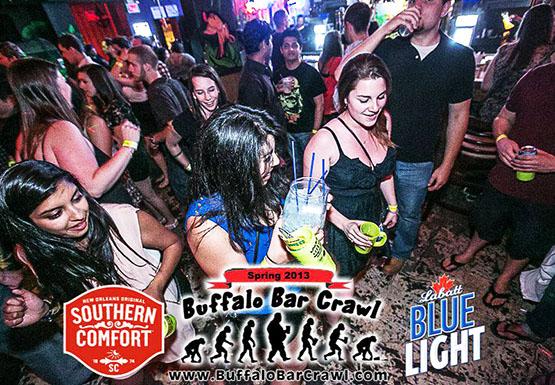 According to Altholz, his number one priority is safety, and he and other event organizers have worked with the local police chief to try putting down barricades to limit pedestrian traffic to the sidewalk instead of the middle of the street. Altholz has also increased his number of off duty police officers, now hiring 10 solely for the events.
Altholz said not having these bar crawls would be a major financial hit for businesses involved with the nightlife including the bars, Jim's Steakout, Mighty Taco and the cab companies, as well as for himself and the Buffalo Bar Crawl company. Many of the participants who enjoy going to these events would be affected as well.
Andrew Taube has been to three Bar Crawls and likes going with his friends, especially when the weather is nice. He feels the situation is tough to call because he does notice a lot of people just hanging out on the streets and he can see where that causes problems. But he thinks it's unfortunate for people who do really enjoy going to them.
"It is disappointing to people like myself who just want to go out and have a good, problem free night of fun with friends," Taube said. "It's discouraging that a group of some people ruin it for the mass of others."
The first bar crawl Altholz ever hosted featured 2,400 participants. Altholz said that at one point, two of the bar crawls drew over 4,000 people.
"People come every time, so obviously we're doing something right, or there wouldn't be thousands of people every time," Altholz said.
Elise Roberts participated in her first Bar Crawl this fall, and she felt that the amount of people that do participate is the reason the bar crawls are so much fun.
"Normally I don't really like the nightlife on Chippewa, but Bar Crawl was fun just because there were so many people out," Roberts said.
Altholz is doing everything he can to make the Halloween Bar Crawl more appealing to the police department's concerns, including exclusively selling tickets online, so no cash purchases can be made. This is an attempt to try to limit the attendance of the event. The potential date would be Nov. 1.
Email: [email protected]
Leave a Comment