Pearl Jam's newest album strikes like 'Lightning'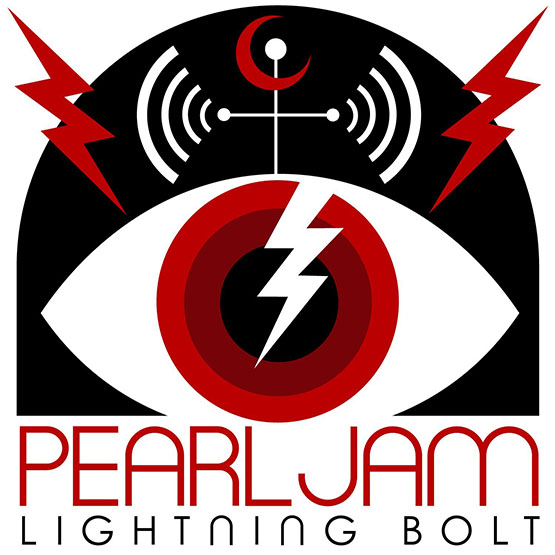 Twenty-three years into shaping the grunge movement of the early 90s, Pearl Jam is still at it – doing its part in keeping modern rock music afloat.
Pearl Jam's 10th studio album, "Lightning Bolt," which was released Tuesday, makes you question whether all band members really are in their 40s and 50s. The album features a smidgeon of what led to an early formation of a legion of Pearl Jam fans, combined with meticulous songwriting and passion that defines the band today.
Usually by the time a band hits double-digit albums, significance and expectation is diminished. But the five-man act from Seattle isn't your typical American band. It keeps plugging away, consistently crafting music that transcends the era it was made in.
Need proof of relevance? Look no further than Saturday night, when Pearl Jam played the second show of its North American "Lightning Bolt" tour to a sold-out crowd inside First Niagara Center. Don't let their age fool you — they are still rock stars.
Rock bands that have played for three decades often seem inclined to lean more toward a "pop" sound to lure in a new generation of fans. But Pearl Jam has bucked that trend and delivered to fans both old and new.
A dozen songs span 50 minutes, and quite the contrast in pace exists throughout the album, starting intriguingly with an original sound from the band in "Getaway." It's heavy on drummer Matt Cameron, and has an indie influence to it.
From there, it's a diversity of styles and curious transitions from song to song. Splitting up similar tempos among songs is uncommon, but it's inimitability that has immortalized Pearl Jam.
At the forefront of an unconventional assortment of hard-hitting sound and slower melodies "Lightning Bolt" holds is guitarist and lead vocalist Eddie Vedder. There is no secret in what Vedder's voice brings to the band. It's used as its own instrument, radiating a full range of pitches.
With Vedder, his tone gives already terrific lyrics even more substance and meaning. He demonstrates that during the album's seventh track, "Pendulum." It's a hauntingly beautiful number that consists of Vedder holding long notes, evoking great emotion, and proving simplicity can bring out the most in his voice.
The song contains multiple low "ohhhhs" and "ahhhhs" by Vedder in a dark tone, and there seems to be an underlying theme that with all good comes bad. "The future's bright/lit up with nowhere to go/To and fro the pendulum throws." The ending lines, complete with more "ahhhhs" than actual words, particularly embody his inherent ability to translate lyrics into appealing sound.
Vedder glowed throughout the album, but he did overshadow band mates at times. While hardcore fans are treated to gems that remind them of the grungiest Pearl Jam, like single "Mind Your Manners" and "Let the Records Play," there are prolonged stretches of rather quiet tunes, exemplified by the closing two songs "Yellow Moon" and "Future Days."
They are, however, undoubtedly beautiful displays of Vedder's baritone, and those types are to be expected when classics like "Black" and "Alive" have already been written. But hearing more of insanely talented guitarist Mike McCready is something that's desired
McCready still does accompany Vedder as the highlight of "Lightning Bolt," despite taking the periodic backseat to a piano on several songs. For the most part, the composition is what's expected of Pearl Jam — emphasis on vocals and guitar.
From the start of "Mind Your Manners" with McCready's riff, listeners know they're about to be treated to something comparable to the grungy sound of "State of Love and Trust," written in the 90s. "Mind Your Manners" is vintage Pearl Jam, possessing a punk rock edge and notable breakdown.
On the title track of "Lightning Bolt," McCready is at his best, with a 20-second solo that is fast, fierce and powerful, staples of the longtime guitarist.
Just as he has with his voice, Vedder has set a high standard for his songwriting over the years and he met it once again. He reaches deep into the wrongs of the ignorant and there even seems to be a socio-political statement — not out of the realm for Vedder — in "Infallible." Near the beginning it goes: "Pay disasters no mind/Didn't get you this time/No friends left at the crime." It is full of depth and may evolve into one of the jewels of the album, as each member equally shares shine time.
The best-crafted number on "Lightning Bolt" is easily "Sirens," the record's other single. Vedder and the rest of the band spills its collective musical soul into the exceptional ballad. There is a breadth to the tune that may not be heard from any other artist today, and it has become the leader in the clubhouse for many Pearl Jam fans' wedding song.
It can be inferred that "Sirens" is about asserting affection for loved ones and appreciating life, with death inevitable for everyone. "It's a fragile thing, this life we lead/If I think too much, I can get overwhelmed by the grace/ by which we live our lives/with death over our shoulders/Want you to know, that should I go, I always loved you/Held you high above, too."
"Sirens" will certainly be a timeless song in the Pearl Jam catalog for its powerful guitar and bass that coincides perfectly with confident lyrics.
In the context of latter-day records from bands, "Lightning Bolt" is one of the best in recent memory. Pearl Jam mixes melodies that draw parallels to old favorites, in addition to experimenting with a new, refreshing sound, creating an appropriate balance. Doing too much of either can lead to unmemorable work this far into a prodigious career, and "Lightning Bolt" is anything but forgettable.
Email: [email protected]
Twitter: @AA_Garland
Leave a Comment