Cross country runs in pre-national to gauge themselves against strong competition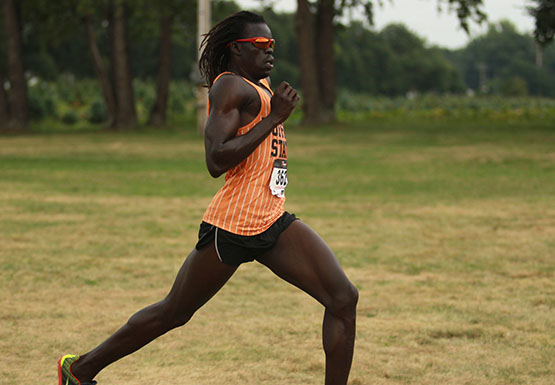 The Buffalo State men's and women's cross country teams travelled a long way to compete over the weekend, but they expect the experience they gained to pay dividends in the near future.
Both teams competed in a pre-national meet in Hanover, Ind. Saturday, the site of the NCAA Division III Championships next month. The 8K course attracted many larger schools from across the country. Some came all the way from the west coast to compete.
The men placed 13th out of 19 teams, while the women ranked 16th out of 18. But it wasn't the results as much as the practice that gave the Bengals a feeling of hope for future races.
Runner Austin Becker recalled the surreal feeling that the course offered Buffalo State in the team's first-ever visit.
"A meet that big where there's nationally ranked teams, just being able to compete with those teams is kind of outrageous to think about," he said. "I think it's the (toughest) competition we've had this season."
Becker finished the race in 69th place (27:44), which was second on the Bengals, behind leader Bumkoth Jiak (33rd, 27:00). Junior Kyle Foster closely followed Becker throughout the race and came in just a second behind him in 70th (27:45).
As has been a theme the last few events for the Bengals, most of the runners on the men's side ran together as a pack for most of the race.
"It really was a team effort more than an individual," Becker said.
Head coach Dustin Dimit wasn't shy about delivering the accolades on the womens' side.
"I thought Julia Smith had a great race," he said. "She was our top runner. We think she'll have a great chance to break our school record in Oberlin in two weeks — as long as the weather is nice."
Smith, a junior, crossed the finish line 33rd out of 228 runners with a time of 23:44.
"She was on pace for the record this week, but the weather just didn't cooperate at the end," Dimit said.
Smith's teammates echoed Dimit's sentiment.
"(Julia) has been pretty consistent and progressing steadily," runner Rachel Parker said. "She's having a great season."
Victoria DeStefano was the second Bengal to cross the finish line, coming in 105th (25:17). It was a showcase run for one of the team's leading seniors.
Parker also took a big step forward with her performance Saturday, finishing 110th (25:29), leading Dimit to level some high praise for the junior.
"She's become our number two girl," Dimit said. "She was really our fourth or fifth for most of the year so she definitely had a really nice race."
The Bengals have two weeks to prepare for their next meet, the Oberlin Inter-Regional Rumble on Oct. 19th.
Email: [email protected]
Leave a Comment