3 Takeaways from the Bills' Week 7 Matchup Against the Jets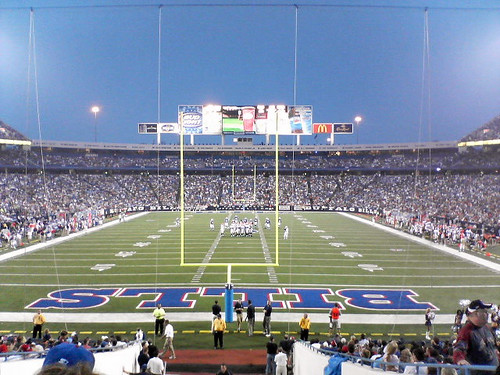 The pandemic sure has changed the way sports are prevailing this season but that does not stop the bills from well "doing their Buffalo thing".
1. The Bills offensive woes continue.
The Buffalo Bills were offensive in week 7, but not in the way fans hoped. After starting the season going 4-0, the Bills offense was rated number one in the league. Josh Allen lead in passing yards and was a standout MVP candidate. Stefon Diggs proved to pair nicely with Allen, racking up 26 catches and 5 touchdowns through four weeks.
However, the opposing eleven men the Bills offense lined up across from weren't anything special. In week five and six however, the Bills had their first real challenges. Facing top tier defenses, the Bills offense crumbled.
In weeks five and six, Allen and the offense could only muster 385 passing yards. In weeks three and four, Allen was able to spew out 599 passing yards.
In times of trouble, it seems as though the Bills offense would rather flight than fight. Fans were hoping an offensive revival vs. the 29th ranked Jet's defense, but they were met with empty wishes. Although Allen had an above-average 307 passing yards, the offense continued to struggle all day.
They finished the game with zero touchdowns, and the only reason their record is saying 5-2 is because of the clutch performance by rookie kicker Tyler Bass. Brian Daboll and his offense better find a genie to wish their offense back into their old ways or it will be a very long season for Bills fans.
2. Jerry Hughes Still Has it
After being acquired in a trade with Indianapolis in 2013, Jerry Hughes quickly proved he was better than the man he was traded for in Kelvin Sheppard. In both the 2013 and 2014 season, Hughes went on to have 10 sacks. He became an immediate starter and was gaining league-wide attention.
Hughes continued to put up impressive numbers in the seasons that followed. However, he seemed to hit a brick wall last season. Although Hughes started all 16 games, he only produced 4.5 sacks (down from 7 the previous year) and 14 tackles (30 in the previous year).
Many thought his age was finally getting to him. However, in the week 7 game against the Jets, Hughes had a career game, in which he had two sacks, six total tackles, one tackle for a loss, and his first ever interception. If the old Hughes really is back, then he wouldn't even need to dress up for Halloween- the man is already a defensive monster.
3. Tyler Ba$$ For President
Tyler Bass quickly got to work on the field this Sunday for the Bills. After many stagnant drives from the Bill's offense, Bass proved that he would be the Bill's only hope for winning Sunday's game.
Going 6/8 on the day, Bass proved to Bill's Mafia why he was kept over the veteran kicker Steven Hauschka. His prized kick from this week 7 matchup was a 53 yard bomb that would've been good from 63 yards out. Bass's consistency was a little confusing at times, considering he nailed the 53 yarder but missed a 37. However, this man has a cannon for a leg, and a little accuracy problem is something that can be fixed in time.
Personally, Tyler Bass has given me more reasons to have faith in him than either of the two presidential candidates. I'm officially starting his presidential campaign. #Ba$$ for President.
Stay Tuned!