Glow-In-the-Dark Roller Rink was a success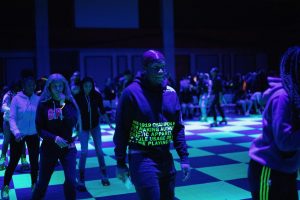 Last Friday, January 31st, SUNY Buffalo State hosted a Glow in the Dark roller skating event. Students anxiously waited in a line that wrapped around the Fireside Lounge in the student union.
Once students entered the Social Hall, they were treated to a dark room with blue lights streaming across the checkered tiles on the dance floor. Those who attended enjoyed a variety of music, glow sticks and got to show off their best skating skills.
Mason Meiler, a Programming Coordinator for Student Leadership and Engagement (SLE) said they were planning on a lot of students showing up.
"One of my goals was to make sure that we have floor dimensions down to ensure that we have enough space for people to roller-skate around the area," Meiler said earlier in the week. "Jordan and I predicted that we would have a limited space depending on how many students showed up, so we are doing a rotation based on how many students we are allowing in the room."
This event was part of the school's "Weeks of Welcome". It was such a success, that the University Police Department officers sadly had to start turning people away from the event because there just wasn't enough room.
"So far, I've been having a really good time, I wish I came earlier because I have been on this line since 8:00 just to get skates," said Emmanuel, a first-year student at Buffalo State.
Meiler hopes to see more students, especially transfers and commuters, attend more events that Buffalo State is planning to host this semester and get more involved on campus.