Evergreen initiative guides Buffalo State to an ever greener future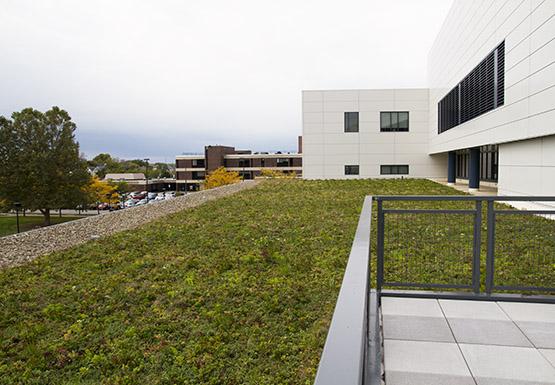 Buffalo State is becoming more environmentally friendly. Many paper forms are now being processed online.
The Evergreen initiative is a program that works toward keeping the campus more environmentally efficient and sustainable. NYPIRG also holds events to promote going green.
Evergreen helps to find venues that recycle different products. Lauren Bostaph, administrative assistant for Business Services, works with Evergreen to help keep the campus more environmentally aware.
"I guess you would call it the story of stuff," Bostaph said. "Whether it's stuff coming in on campus or stuff going out from the campus. A lot of our responsibilities include trying to find resources to recycle many different things from pallets to light bulbs to batteries to printer toner cartridges to all the electronics…anything you can think of we try to find a venue you can recycle it through rather than just throw it out."
Bostaph said that one of Business Services' main jobs is to educate the students and faculty on campus of how to dispose items that may be recycled. The initiative also holds events such as drop-offs where anyone from the public can come and drop off items that they might not know where to recycle.
"There's always the challenge of having to re-educate the students as they come in, which is a good healthy challenge to have," Bostaph said. "We try to tie in a lot of stuff with the community and not just be Buff State centered. That's why we do a lot of the drop off collections, whether it's the prescriptions, or the electronics drives or the don't-throw-it-out programs, because we recognize we're part of a community and we have to support that community and help them as well, it's not just us."
Evergreen often partners up with Buffalo State's NYPIRG to hold events that encourage recycling. Patty Ceravole, NYPIRG coordinator, said that they have collaborated in the past for National Recycling Day and having an environmental tabling fair every Earth Day.
"These two organizations are extremely beneficial to students," Ceravole said. "Through their programming students are learning to be responsible consumers and if they get further involved with the organizations they can also learn important tools for organizing around their communities."
Buffalo State's NYPIRG host's campaigns that recognize important environmental issues throughout Western New York. Having clean air, water and food is beneficial to everyone, according to Ceravole.
"The world is progressively on the path to a sustainable green society and it is important that key parts of the community get involved," Ceravole said. "Buffalo State is a key part of Buffalo and what is planted here will one day grow into a huge tree. Only that tree will most likely be an artificial super tree that generates solar power, collects rainwater and is a beautiful vertical garden."
Buffalo State is also going green by making the switch to online forms. This year, parking services made it possible for students to register for their parking passes online rather than on paper forms. In the future, payments will be accepted online for any parking citations.
"The effort to go green and create a way to apply for parking permits online meets with Buffalo State's strategic direction to pursue and commit to green campus initiatives," Raymond Wagner, staff assistant at parking services, said. "I think the online permit process has greatly benefited the campus. Students, faculty and staff no longer have to wait in long lines at the beginning of the semester."
Buffalo State is continuously adapting to become a more environmentally conscious campus. Students can join helping make the campus healthier by joining the events offered through the programs.
Email: [email protected]
Twitter: @lcoppola92
Leave a Comment