Buffalo State lays out a Master Plan for campus 
An update meeting on the progress of SUNY Buffalo State's master plan was held on Tuesday, October 8 in the Bulger Communication Center. All students, faculty and staff were invited to attend this meeting. Many attended this meeting including Vice President of Finance and Management and Laura Barnum, and Buffalo State campus planner Sarah Reid.
This year is the fourth out of the fifth year master plan. 
"This plan is a transition plan for promotion," said, Vice President of Finance and Management Laura Barnum.  
The project to develop the old city impound lot on Dart street is underway. The City of Buffalo chose to partner with the school to develop the lot under a DDA (Designated Development Agreement) back in February. Buffalo State plans to approve a concept or developer by May or June of 2020. This is the top project at hand and the main focus currently. 
"Buffalo State gets to pick who their neighbor is. Right now it is open to suggestions about what should be there. It could be Buffalo State occupying this area or a company we have an agreement with. No matter the decision, it will benefit the college," Barnum said. 
According to Barnum, this project should only better the experience for students and will enhance the look of the college on campus and off. 
"Especially as drivers exit interstate 190 and travel along Scajaquada Expressway (Route 198)," Barnum said.  
For the sports lovers out there, a new multipurpose field is in the plan for the campus. A field, which was located north of the Softball Field, was lost due to the construction of the Science & Mathematics Complex. Therefore a new field is needed, according to the school. So far, there is no start or end date and no plans for what the field might look like. The Coyer Field track will be replaced this upcoming summer and the turf field was already replaced in this past summer.
For those students who live in the towers or Moore complex, look out for a dining area to be added at that end of the campus in the coming years. The idea was only planted by students, but the idea is expanding. The hope is to add a Moore hall study. It will add additional space for student life. The program study will consider food service, activity and studying space and even a convenience store.
Right behind Moore is Iroquois Drive. This street will undergo a renovation that is set to be completed over two seasons, winter 2020 and 2021. Heading up campus Buffalo State is adjacent to the bike path. A connection is needed west and north of campus. The college has been notified and the project has been added to the list.
According to Buffalo State campus planner Sarah Reid, Buffalo State is deeply committed to sustaining, strengthening and bolstering community engagement efforts. In order to fulfill this mission, they have envisioned a Civic and Community Engagement Center. 
"This is a unique physical building to house our community organizations and events, and expand academic-community collaborations to improve the quality of life within our region," explained Reid. 
The proposed location for this center is building 15 of the historic Richardson Olmsted Complex, formerly the Buffalo Psychiatric Center property. 
The following offices will be located in the building: Civic and Community Engagement Office, Educational Pipeline Initiative Office and the Office of Economic Development Center. 
"Many other campus programs will utilize the facility in order to cooperate with community partners. Other space would include multipurpose meeting spaces," Reid. 
The campus enrollment has shifted in recent years. Buffalo State is working with faculty and academic affairs to identify opportunities to transform or combine underutilized classroom spaces. The school wants to transform into a more optimum size that would better accommodate current and future class size needs. 
"Although we are just outside the optimal target range of 60-70% for average seat occupancy in general purpose classrooms. We have a great opportunity moving forward not only to rethink classroom sizes, but also look at possible options to transform some underutilized classrooms into student life programming spaces," Reid said.  
The Albright Knox Art Gallery in Buffalo, right across from campus is laying out plan for its big expansion.  This plan includes closing its gallery on Elmwood Avenue in late 2019. Although there will be programs and events during construction. These events include a public art initiative and an art truck. 
The Public Art Initiative was established in 2014. Within the years it has established more than 30 murals around the city. During construction, more light will be bright to these murals. The mobile Art Truck will also launch in early 2020. This will expand creativity throughout the city. This includes art classes, activities and projects for all ages. 
Included in the Albright Knox plans is a new artwork inspired by Buffalo's weather and Frederick Law Olmsted's park system called "Common Sky" that will cover the indoor town square.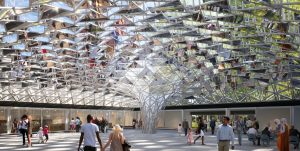 Keep in mind, for any Buffalo State staff, faculty and students who park at Albright Knox throughout the semester, parking will no longer be available beginning at the end of this year.  
Lacking space on campus, Buffalo State has arranged facilities for current and future START-UP NY (SUNY Tax-free Areas to Revitalize and Transform Upstate New York) companies on Richard Avenue and on Chandler Street in the black rock neighborhood. START-UP NY offers new and expanding businesses opportunities to operate tax-free for 10 years either on or near eligible university or college campuses in New York State. 
For businesses that qualify, their employees will also pay no state personal income taxes. At Buffalo State, they can help you navigate START-UP NY benefits and determine if your business is eligible for academic alignment for the program. Visit the START-UP NY website for more information on eligibility and requirements. 
"This process is a chest game. Our goal is only to place things where they fit best," Barnum says.