Club Crawl Your Way to New Things
The best way to help young students start thinking about their futures and goals is by giving them new opportunities. 
Helping students have a fun college experience is what Buffalo State's United Students Government (USG) is trying to do with their annual Club Crawl. The Club Crawl event was created to give students and clubs/organizations the opportunity to shine and branch out of their comfort zones. 
Club Crawl, now in its third year, took place in the Social Hall of the Campell Student Union last Thursday. 
"Club Crawl has both social organizations as well as academic organizations," said Diana Delmonte Bido, AVP for campus affairs and government relations for USG. "Each table has a unique scene. It gives the organization the opportunity to do what they want. It is where the little guys become the big guys." 
Morgan Morin, a member of the dance club wanted to share what makes dance club unique.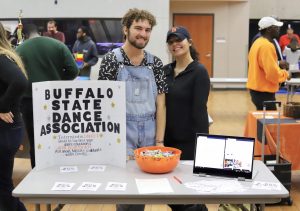 "The Buffalo State Dance Association is very focused on dance and body movement. We have a great program through the National Honor Society for dance," Morin said. "If a student is a dance major or minor, you can get points and be able to graduate with cords."  
The Buffalo State Rowing Club, which was recognized by USG in the spring, is looking for more members. The Rowing Club had been very successful back in the late 1960's and early 1970's before a fire at the West Side Rowing Club forced the club to disband in 1976.
"We want the recognition and the awards we once had," said Josh Jesz, Vice President of the Rowing Club. "We just won third place in New York State rowing regatta that had taken place at Saratoga Springs New York. We are really competitive and are happy to have new people." 
The Rowing Club brought an indoor rowing machine to the Crawl for students to try out. It became so popular there was a line forming for it. The student who had the fastest time won a $15.00 Starbucks gift card.
The Visual Arts Club added a pop of color to their stand with a dart balloon game. A student could throw a dart at any balloon and if they stroked the balloon they won a piece of candy.
"This is a club of creatives, trying to engage people through art," said Jaylene Perez, President of the Visual Arts Club. "We have very strong networking with businesses outside of Buffalo State to help students get their artwork out there." 
You can learn more about all of the student organizations on Bengal Connect.
Also check out our photo gallery below by Aaron Bobeck/Staff Photographer: