A year of transition for Howard Cohen, Buffalo State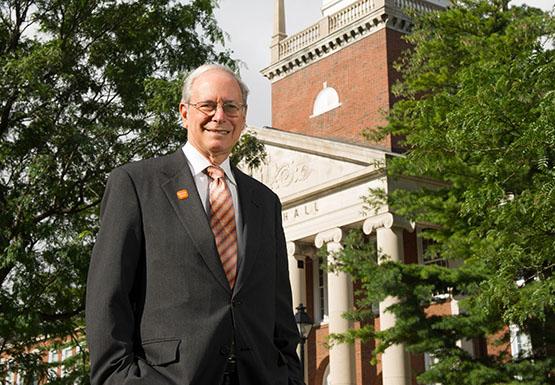 Howard Cohen's unlikely arrival at SUNY Buffalo State began with an unsuspected phone call a few months earlier.
Cohen, at his home in Hammond, Ind., where he served as chancellor emeritus at Purdue University Calumet, had already prepared his classes for the fall semester.
He had been looking forward to some down time. Cohen hoped to sit back and enjoy a few of his favorite activities ­­— teaching, traveling, consulting — that sometimes eluded him during his 40-plus-year career in higher education. He was transitioning into retirement.
Taking over as president at a college 500 miles away was the last thing on his mind.
But then his phone rang.
On the other line was the familiar voice of an old friend. Former Buffalo State president Muriel Howard wanted to know if Cohen might consider lending a hand at her old institution.
The continued decline of current president Aaron Podolefsky's health led to his decision to step down in July. And so Buffalo State sought an outsider to lead the campus in the interim until Podolefsky was able to fight off prostate cancer.
Cohen and Howard worked together often through their roles in the American Association of Colleges and Universities, the organization Howard became president of in 2009 following her tenure here. Cohen was in a unique position where he could vacate his obligations for a year.
With SUNY Chancellor Nancy Zimpher's stamp of approval, he agreed to aid the campus in overcoming unfortunate circumstances.
"How many people are in that position?" Cohen said Thursday from his fifth-floor office in Cleveland Hall. "So I just felt like I couldn't turn my back on the call."
Of course, Cohen's call shifted when Podolefsky passed away seven days after he assumed office. Instead of holding down the college for Podolefsky's eventual return, he's now charged with setting the stage for Buffalo State's ninth president.
From Harvard to Indiana and everywhere in between
Cohen entered the philosophy field during a time of unprecedented shifting in United States culture.
As a young Ph.D candidate at Harvard University, the 1960s and 70s presented Cohen with the platform to observe civil rights, anti-war and women's liberation movements from the epicenter of this country's philosophical advancement.
Therein lies the root of Cohen's affinity for philosophy and higher education.
"To be in a philosophy department in Cambridge, Mass., at that time was just a life-changing experience," Cohen said. "Not so much for the education, but just for the cultural shift and being a philosopher and trying to make sense out of all that."
While at Harvard, Cohen also discovered an interest for teaching, which he developed into a career that spanned four decades.
Cohen got his start in higher education in 1970 at the newly-formed University of Massachusetts-Boston, which has grown to become Boston's only public university tucked away in between a score of some of the nation's top private institutions.
The goal then was to establish the foundation for an affordable higher education option to better serve the region's middle class population.
Cohen spent the first 20 years of his career at UMass-Boston working as an assistant professor, department chair, associate provost and everywhere in between.
UMass-Boston today offers doctoral programs and is the third-largest school in the University of Massachusetts system.
"We used to say we had more Harvard Ph.D.s on the faculty at any school besides Harvard," Cohen joked. "It was good to be in on the ground floor."
Cohen ventured to the Midwest in 1991 for stints in the Wisconsin University system, first at the University of Wisconsin-Parkside until 1995 and then to the University of Wisconsin-Green Bay for another six years.
In 2001, Cohen took on his greatest challenge when he was appointed chancellor at Purdue Calumet, a small university under the Purdue University umbrella, where he also taught as professor of philosophy.
There, he was one of the minds behind the institution's transformation from a commuter-heavy campus that became an academic afterthought to a valuable regional asset inhabited by students from all over the world.
"It didn't look anything like this," Cohen said, gazing out his office window onto the Buffalo State campus. "When you walk across the campus at Buffalo State at 3 o'clock on a Friday afternoon, you see students. At Purdue-Calumet, you saw nothing. Just buildings."
Over the next 10 years, Purdue Calumet established housing and other amenities to keep students on campus. Revamped programs geared toward the heavy non-traditional student population followed along with a handful of centers to provide services for the surrounding area.
It was all a part of Cohen's strategic plan to render Purdue Calumet a serviceable regional institution, a belief he's carried with him at every stop along his career.
An interest in Eastern culture and the links
The background on Cohen's iPhone is a photo he snapped of the celestial landscapes of Zhangjiajie, a national preserve in China. The vertical cliffs, which appear to be suspended in air, isolated from all surroundings, resemble something you might see in the movie Avatar.
Cohen enjoys travelling. He's been to China nine times, where he often lectures on engineering ethics and other various topics to students and administrators at universities across the country.
He began travelling back and forth from China while at Purdue Calumet in an effort to recruit students.
Along the way, he's had the opportunity to soak in some of China's many breathtaking destinations, including Jiuzhaigou, another national preserve; Yellow Mountain and the Terracotta Warriors; Jun Wang and the Gobi Desert; and the Mogao Caves, just to name a few.
"Some of the most stunning places you can imagine," Cohen said.
Cohen is also an avid golfer, though he says he left his clubs back in Hammond, where he and his wife, Patricia, play often.
"I play in the low 80s and sometimes when it's warmer," he said with a laugh.
Back in Indiana, Cohen also serves on a number of committees, including the Indiana Bicentennial Commission, the Legacy Foundation, and a charter school called the Hammond Academy of Science and Technology.
It "keeps him busy," he says.
Setting the stage for Buffalo State
During his campus address last month, Cohen identified six priorities he will work on while he's here in an effort to ensure Buffalo State will be in good standing when it names its ninth president next year.
Cohen's to-do list includes establishing a front door presence on the southwest corner of campus, boosting declining enrollment and repairing a $1.3 million budget deficit. A program overhaul that could involve adding or removing certain majors and minors will also be considered.
All of these projects will lead up to a new strategic plan that will go into effect this spring to reestablish Buffalo State's core values and mission for the next five years.
"These rose to the top as the things that have to be addressed to whoever comes in as the next president will be able to have a solid foundation to work from," Cohen said.
"My job is to apply constant gentle pressure to make sure we keep moving."
Email: [email protected]
Twitter: @B_Schlag
Leave a Comment