Late Bombers touchdown leaves Bengals shell shocked
Football sees late lead slip away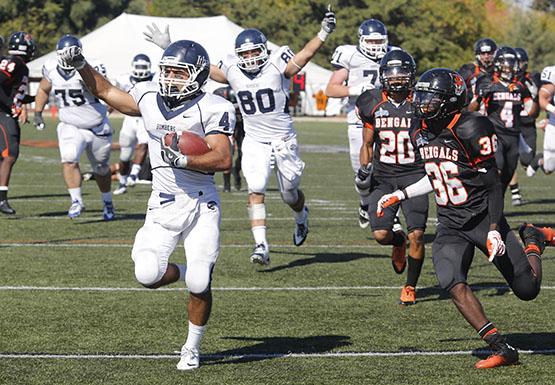 Late in the fourth quarter of Saturday's game against Ithaca, the Buffalo State football team seemed to have had the game won.
The Bengals scored their second touchdown in less than two and a half minutes to take the lead, 20-17.
The second score erased a 17-7 Ithaca lead. Coyer Field was rocking, and the Bombers appeared to be reeling.
But then kicker Alex Debbins' extra point attempt sailed wide, and Ithaca seemed rejuvenated.
"Unfortunately, I think we were feeling a little bit of pressure from the left side, and he kind of pushed it over there," head coach Jerry Boyes said. "You don't like to see it happen, [but] sometimes it does."
The Bombers started the ensuing drive at their own 28-yard line with 1:00 left in the game.
The first play was a 12-yard pass to Vito Boffoli. Then, it was another pass to Boffoli, this time for 18 yards. Ithaca followed that with a 12-yard pass to Joel Lynch, and the Bombers were suddenly at the Buffalo State 30-yard line.
After an incomplete pass on the next play, quarterback Phil Neumann hit Boffoli on a crossing pattern about five yards past the line of scrimmage. Buffalo State defensive back Justin Medley looked to have the play stopped, but Boffoli slipped through the tackle and headed toward the goal line.
Before you could blink, Boffoli sprinted over the line to make it 24-20 in favor of Ithaca.
"That pass that scored I think was a three-yard gain, and that's exactly what it should have been," Boyes said. "… If (players) are in position, then we have to make plays."
The touchdown silenced what had been a raucous crowd on hand for the homecoming game.
"We kind of gave away the ballgame," defensive end Brian Greene said. "That's it. Gave it away."
But the Bengals still had 22 seconds on the clock, and they got the ball back on their own 35-yard line.
On the first play of the drive, quarterback Casey Kacz eluded pressure, rolled right and chucked the ball 50 yards downfield to a wide-open Ryan Carney along the sideline.
No Ithaca defender was within 10 yards of Carney, who might have been able to score if the pass and catch were perfect. As the ball was in the air, the home fans seemed poised to leap out of their seats in celebration
But Carney caught the ball with one foot out of bounds, marking an abrupt end to what could've been a season-defining comeback for the Bengals.
"I picked my head up just for a split second and saw Carney standing right along our sideline, and threw it and maybe a little wind carried it out of bounds," Kacz said. "…I got pumped, and then the ref singled out of bounds. My heart kind of dropped for a second."
Boyes added that the play was indicative of the Bengals' game as a whole Saturday — just incomplete.
"I guess that kind of was the order of the day, you might say," Boyes said. "Those (plays) are hard to explain, they really are. Sometimes it's a game of inches, and Ryan's foot was about four inches out of bounds."
The loss dropped the Bengals to 2-2 on the season, after they opened with two wins in their first two games. It also handed them an all-important conference loss in their first Empire 8 game of the season.
Kacz, who was hampered by injury for the second game in a row, was 24 of 44 for 262 yards with two touchdowns and one interception. Running back Rich Pete had 91 yards and a touchdown on the ground, to go along with five receptions for 52 yards. Green had two sacks for the Bengals.
The Bengals' next game is another Empire 8 matchup, this time on the road Saturday against Alfred. Kickoff is scheduled for 1 p.m.
Leave a Comment