Throwback Thursday: Pre-internet, lovers used newspapers as Valentine's Day love letters
"LAUREN: Even though you're from Buffalo and I'm from Long Island, I'll keep you around."
The year is 1986.
Valentine's Day quickly approaches. The pressure is on to do something sweet (and public) for your Valentine.
Instagram isn't around yet, so you can't post a collage of funny Snapchat videos and smiling selfies.
iMessage won't be invented for at least a couple more decades, so you can't text a Bitmoji of you holding a box of chocolates — the customized emoji app is 24 years away at this point.
You can't even search Pinterest for what to write on your handmade card!
Maybe, in between watching Back to the Future in your dorm room and playing Super Mario Brothers on your Nintendo, you'll join hundreds of other students and write a thoughtful, funny or weirdly specific love note to be published in your student newspaper.
*******
While flipping through a musty archive book of Record newspapers from the '80s, I came across a faded pink two-page spread of love notes, covered in illustrated hearts, roses and hundreds of short, witty blurbs.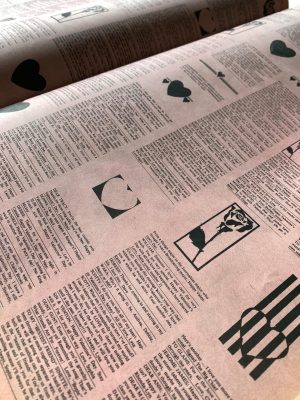 Some were sweet.
"DEAR FEE FEE, You are my one and only, I love you, I love you, I love you, Happy Valentine's Day. Love Derrick"
Some have a clear backstory.
"DEAR DAN, I still care! Happy Valentines day. Love you, your Italian admirer"
Some were funny.
"LAUREN: Even though you're from Buffalo and I'm from Long Island, I'll keep you around."
Some were… creepy?
TO THE SENSUAL, SEXY, SASSY, BRASSY GALS OF THE RECORD: I know Valentine's Day is traditionally filled with love, joy and benevolence–better luck next year…"
Some were inspiring.
"TO THE GAY ALLIANCE: As we struggle through yet another heterosexual holiday, remember an army of lovers will not be defeated. Larry"
Some were specific.
"From a Design major to the Journalism major who thought I was a Broadcasting major, Happy Valentine's Day."
There are hundreds of them.
Today's equivalent is probably an Instagram or Facebook post.
Reading the intimate notes left by students of decades past, I was struck by how bold they are. There's something so public and finite about publishing a tiny love note in your college newspaper, for it to take up 1/4 inch in the middle of the paper, be on display for a week and immortalized in a hardcover book that students flip through 33 years later.
(Who could say what Instagram will look like in three decades?)
This article is a part of our Throwback Thursday series. If you have a suggestion for a specific topic or story, send us an email at [email protected].
To access more Record archives, all issues from 1913-2006 can be found online here.
Twitter: @chessabond
Email: [email protected]