Bengals sweep SUNYAC pool play, extend win streak to seven games
Women's volleyball tied for first place in conference after 3-0 weekend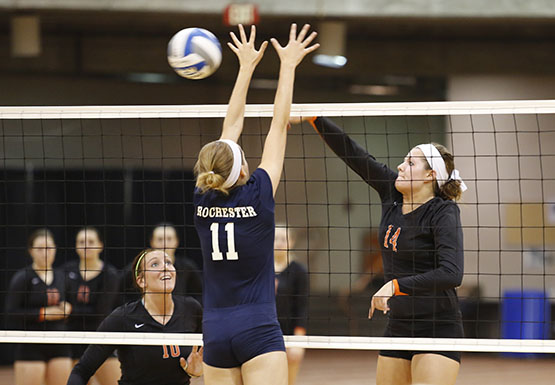 After a Sept. 24 home win over Medaille, Buffalo State volleyball coach Maria DePeters set out to make sure her team was ready for the following weekend's SUNYAC opener, a pool play tournament in Brockport.
The Bengals watched game film on their future opponents, took notes and studied them closely. In practices during the week, they prepped for the weekend's rivals so that they were prepared for each team they faced.
"The girls knew how important this weekend was," DePeters said. "They practiced hard each day, and really proved themselves out on the court this weekend."
All that work paid off for the Bengals, who beat Geneseo, Fredonia and Plattsburgh on the way to a weekend sweep, giving Buffalo State a share of first place in the SUNYAC and stretching its winning streak to a season-long seven games.
Against Geneseo on Friday, Buffalo State lost the first set, 22-25. DePeters said that since her team was aware of how important the opening weekend of SUNYAC play was heading into the match, they may have let nerves get the best of them for that first set.
"I think a lot of times we go into weekends like that with a lot of nerves," DePeters said. "The girls were anxious, and you can't play good volleyball if you're anxious. It was just a bad set of volleyball all around. (But) the girls realized what they needed to do, and we went over what the game plan was.
"I said to focus on one thing at a time, and they did it," she added.
The Bengals dominated the next three sets, 25-14, 25-17 and 25-15. Outside hitters Sam Parente and Sarah Horvath had 12 kills each, and senior setter Kelsey Bashore added 33 assists. Buffalo State frequently found open areas on Geneseo's side of the floor, and ended the match with a 21 percent hitting average as a team.
"We had a game plan going into Geneseo, and we utilized it very well," said Bashore, who was named Buffalo State's Athlete of the Week. "We had spots to hit and people we wanted to attack."
On Saturday, the Bengals defeated Fredonia in four sets, 25-18, 21-25, 26-24 and 25-19, before beating Plattsburg in straight sets, 25-20, 25-15 and 25-18, to complete the three-match sweep over the weekend.
"We limited our errors and played mentally tough volleyball," DePeters said. "Every single person on the court played their role, and we've been preaching that all season. We can't have five people work hard and one person not work hard, because that one person throws off the whole (team's) chemistry."
The Bengals (12-6, 3-0) are tied with New Paltz and Potsdam at the top of the SUNYAC table. After a shaky start to the season, DePeters said her team has officially righted the ship.
"Everything is coming together," DePeters said. "It was a little rocky in the beginning, but that's also because we were playing really good teams, and you just can't play perfect every game. (Now, we're) exactly where we want to be, and where we should be with this group of girls."
After dropping its first three matches of the season against some of the top teams in the country in the Cortland Red Dragon Classic, Buffalo State battled inconsistent play and struggled to string together complete performances in the next two weekend tournaments.
But against SUNYAC teams in Brockport, it was a totally different story for the Bengals.
"Conference play is huge for us, and it's what we've been working for up until now," senior outside hitter Sarah Horvath said. "All of our games have prepared us for this. We were determined to win."
On Tuesday, the Bengals beat St. John Fisher on the road, 25-8, 27-29, 25-12 and 25-20. They travel to Rochester this week to play in the Golden Flyer Invitational.
Leave a Comment