Buffalo State must follow through on its promise to diversify faculty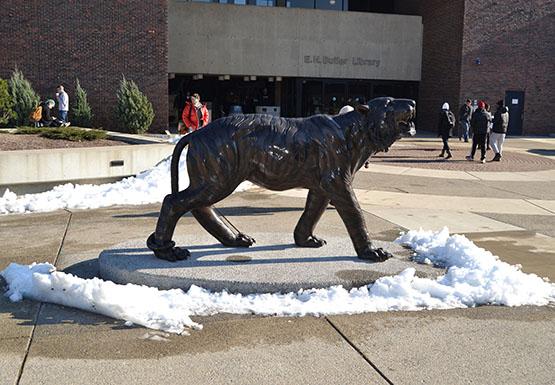 According to SUNY Chancellor Kristina Johnson, SUNY Buffalo State has been selected to kick start a pilot program designed to promote diversity at SUNY schools.
The program is called PRODI-G, which stands for promoting, recruitment, opportunity, diversity, inclusion and growth. Katherine Conway-Turner, President of Buffalo State, told a reporter from WBFO that she is "proud to play a leading role" in the new program. The grant money will be allocated to hiring five faculty members to staff a newly created Africana Studies program.
Africana Studies is an interdisciplinary program that includes coursework in political science, literature and history. It is a popular program at Cornell, Wellesley and Barnard. The majority of scholars in Africana Studies are African-American or from other minority groups.
While I applaud Buffalo State for creating this new program, and for its plan to hire five new scholars, I must insist, as an alumnus, that the college follow through on its promise to promote diversity on campus by making more new hires in other academic disciplines, especially in STEM programs (science, technology, engineering, mathematics).
Before I relocated to Buffalo, I was employed as a Social Studies tutor at an after school program in the Syracuse City Schools. Most of my colleagues were white, however, the program hired a math tutor who hailed from Nigeria. Several of my students expressed how happy they were and how refreshing it was to see a woman who looked like them to help them with their math homework; the numbers did not lie either. The tutor with the most number of students per week was my colleague from Africa. She was not just popular because of the color of her skin, she was a highly effective educator as well. Her presence not only enriched the program among its students, it enriched my own experience as a tutor.
When I enrolled as a graduate student at Buffalo State, I was fortunate to enroll in a program that has always benefitted from having a diverse faculty. Not only have I received an education consisting of diverse topics, but I have also had the benefit of being instructed by scholars whose expertise and experience is similarly diverse, but other students at Buffalo State have not been so fortunate.
Therefore, Buffalo State must follow through on its commitment  to diversify its faculty by making new hires in academic disciplines where diversity is often lacking. Doing so will help promote core academic disciplines among minority groups where there is sadly little interest and where there are deficiencies. It will also develop mentoring, a component that is often lacking in many college programs. Finally, it will encourage future generations of minorities to earn degrees in disciplines that have not always been so diverse.
Africana Studies will make a fine addition to Buffalo State's programs, but by its nature it has always been a diverse area of study. Mathematics, on the other hand, could use a helping hand.