The Style Spies
This fall, Buffalo weather has proven to us yet again that we never quite know what to expect to land before our eyes. From the radiant sunshine to the dusting of snow across our campus, it has quickly transitioned into the inevitable war of the seasons. If you are from the area, this swift change may come as no surprise, but is your closet prepared? Luckily, at SUNY Buffalo State, we have a plethora of fashion gurus who show us that the cost of staying warm does not mean you have to sacrifice your style.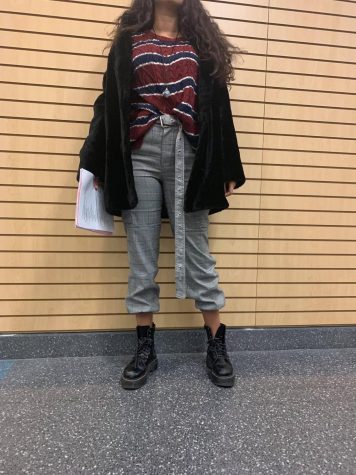 Jennifer Steele and John Wesh
"It's cold and I like the mix of patterns", Samantha, SUNY Buffalo State Student
In light of recent trends, fashion has seemingly come full-circle. It has utilized styles of the past, while adding a modern twist. We are in a time where bold statements are made and individuality prevails.
According to Worth Global Style Network, we can expect winter fashion to be just as comfortable as the oversized hoodie that we all turn to once the temperature drops. In fact, there may be plenty of pieces stashed away in your closet that you never realized would work together.
Remember that old rule, avoid the clashing of patterns?
This season you can throw that advice away. This means you can also disregard all the times that your mom told you to change because your outfit didn't match.
WGSN's Autumn/Winter 2019 forecast predicts that unexpected pairings will feel sophisticated, and the experimentation of mismatched patterns will be trending.
Implementing different patterns doesn't have to be drastic, just as Samantha has exemplified (see image). She has incorporated a simple striped sweater with traditional checked, belted waist trouser. The straight silhouette and casual tailoring of her outfit gives "slouchy" a new meaning, and has created the "vintage mood with a subversive twist," that WGSN anticipated.
Unlike Carrie Bradshaw, most college students can not afford to see their money hanging in their closet. Providentially, layering is a key aspect this upcoming season. This means that you can re-wear without repeating.
When it comes to shopping, buy staple items that you are able to mix and match. Samantha's oversized faux fur coat accents her outfit by adding texture, while also cocooning her body from the cold weather upon us.
Ignite your inner stylist this season by staying warm and vibrant.