New shuttle bus provides safe campus transportation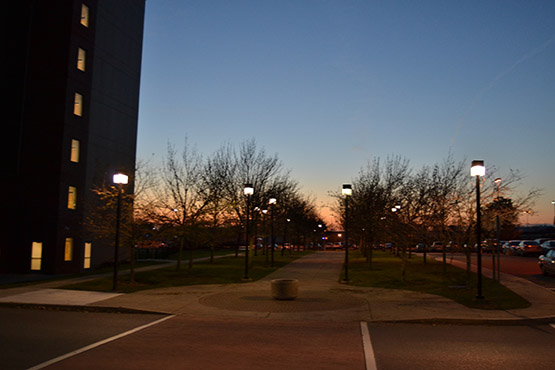 Another new improvement has been added to SUNY Buffalo State.
On July 10, Bishop Hall, which houses the honors students, received a facelift.
Bishop received new mechanical and electrical renovations, along with architectural improvements and safety renovations. The library is being renovated to be more student friendly.
Another improvement to campus is the reintroduction of the shuttle bus, which was brought back to provide another form of safe transportation. It has now been active since the beginning of the semester.
The bus is part of the Buffalo State Safe Escort program and provides safe rides around campus; University Police officers and University Police student assistants already provide escorts to students or faculty while walking. Students, faculty and staff can now use the bus to their advantage throughout the year.
One of the six permanent drivers, Barbara Hill, motivates students and staff to use the shuttle, especially as more concerning weather makes its way to Buffalo.
"Being familiar with the weather in WNY, I anticipate most people will find this service most beneficial as winter approaches," Hill said.
The bus can escort up to 16 passengers each ride, from parking lots G20 and R14 to Cleveland Circle (the visitor parking lot).
Riders can download the SmartTraxx app to find the current location of the shuttle, determine how far the bus is from their location and what stops are closest to them.
"The shuttle bus is very convenient not only does it take you around campus but it takes you to grocery stores nearby," student Annaleise Harvey, 22, said.