Cycling studio on Elmwood puts new spin on health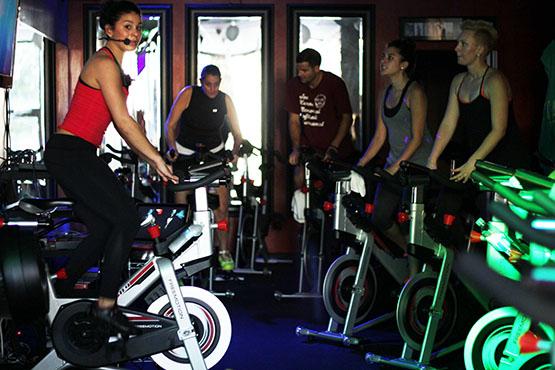 We're all guilty of it. Each and every one of us.
Those late-night study sessions being fueled by nothing but Red Bull and Grande mocha lattes from Starbucks. Those weekend nights that start with drinks at 9 p.m., followed by a bar hop down Chippewa or Elmwood before ending with a greasy Jim's Steakout chicken finger sub and fries at 4 a.m.
Those nights where you haven't slept in weeks, have too many tests and can't afford to make a simple grilled chicken salad, so you'd rather have a Snickers bar and a can of Pepsi for dinner.
We've all done it, and the proof sometimes comes in the form of the inevitable "Freshman 15."
College is indeed a breeding ground for unhealthy behavior. And a vital way to maintain a healthy lifestyle is by eating sensibly and most importantly, developing an active exercise routine early on in life.
BikeorBar, located at 904 Elmwood Ave. and owned by Alexandra Leo, is an ideal location for Buff State students to keep in shape during these rigorous college years.
Cycling is one of the most effective forms of cardiovascular activity. At BikeorBar, various spinning classes are offered in its large and airy cycling room that features a state-of-the-art sound system. The studio also offers a variety of other classes, including crosSPIN, group rowing, Pilates and kickboxing.
When contemplating where she wanted to open the studio, Leo was set on creating a spinning experience that fuses intense cardio, dynamic sound, club-like lights, energetic instructors, and most importantly, fun — and what better place than the Elmwood Village for that, right?
However, it was tough convincing others that Elmwood or any part of the city could support the idea and allow her to prosper financially.
"Time and time again I was encouraged to go to where the money is- in the suburbs," Leo said. "But my vision was Buffalo, was Elmwood, was college kids, was hipsters, and the many families, and everyone in between, that call the village home."
So Leo opened shop in the city with her son TJ and daughter Brittany. Though spinning is still the focus, a new barre class was recently added to the daily calendar. Barre is based on the warm-up exercises ballet dancers do at, conveniently, a bar, and the classes BikeorBar offers are based on the pioneering technique Lotte Berk devised in the 1970s. This method is proven to flatten abs, tone thighs, and lift your seat.
BikeorBar instructors have fused Booty Barre with Berk's original barre exercises to create high energy classes incorporating music and combining small isometric movements to tone, lift, and strengthen your calorie-burning muscle groups, while shedding inches off your body.
On top of the unique classes available, BikeorBar is also affordable and convenient for college students. According to Robert Nehin, a trainer at the studio, the location of the gym is perfect for college kids because they can walk, catch the bus, or even ride their bikes there.
The first class is free. After that, classes start at just $9 per session and usually last between 45 minutes to an hour. Pricing follows with a 6 class pass for $36, a 13 class pass for $79, a 20 class pass for $99, a 25 class pass for $130, a monthly unlimited pass for $85, and a 6 month unlimited pass for $486.
Nehin feels spinning classes are the best kind of classes for people who are less physically inclined.
"If you've ever left a group exercise class (ie. Zumba or Boot Camp) feeling frustrated, you will appreciate that there are no complicated moves to learn with indoor cycling," Nehin said. "Regardless of how fit, flexible or coordinated a person is, they will get a great workout."
BikeorBar also offers student discounts on almost every package they offer, because if there's one thing Leo knows, it's that the life of a college student is far from being healthy.
"I think a lot of students fall prey to the freshman 15, and exercising just a few days a week can help ward off not only that, but the stress of school work, and give a sense of routine," Leo said. "Plus it can get students out of the dorm room or library and bond with students who find a partner to work out with."
Brittany Leo, a BikeorBar trainer and Alexandra's daughter, stressed that good eating habits are also essential and pointed out that BikeorBar offers a healthy eating plan members and trainers can track via MyFitnessPal, a diet and exercise Web site.
"I hate the word diet, we don't like to call it that," Brittany said. "But we can set you up with a trainer that will monitor your eating and weight training. Good eating is key when it comes to a healthy lifestyle."
According to Leo, the transition from late adolescence to early adulthood represents the most dramatic declines in physical activity across a person's life, because those inactive in youth tend to remain inactive over their lifetime. So now is the perfect time for college students to get into a regular exercise routine while they're young.
BikeorBar is open Monday through Friday, 6 a.m. to 8:30 p.m. and Saturdays and Sundays from 8:30 a.m. to 1 p.m., with flexible hours.
Email: [email protected]
View Comments(1)