No stopping Nas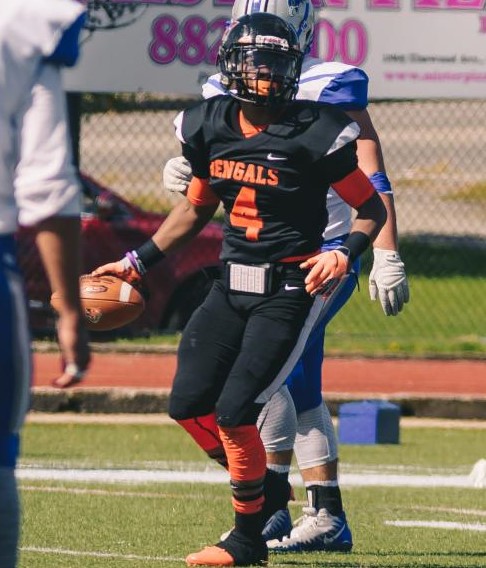 Division-III student-athletes are asked to do just as much as their D-I counterparts but do it for no scholarship and a lot less glory.
Essentially, players are truly doing it for love of their sport.
But making Naseer Jackson the poster child for what D-III athletics are all about would be an understatement.
After two near-death experiences, being paralyzed for two months, six months of chemotherapy along with his daily hardship the fact that Jackson is on the SUNY Buffalo State football roster this season is remarkable.
His coaches, teammates, doctors, nurses, friends, family and even Jackson himself are still in shock to even to this day.
"Every day I'm shocked," Jackson says. "I did what I always dreamed of. If there's anything that I want people to remember me by is that I followed my dreams. The fact that I played one game was a blessing to me. How many people get the chance to play this game."
…
In literature, water is often used as a symbol for rebirth.
On April 23, 2017, Jackson took a shower that would change his life forever.
"I was at home, I went in the shower and then my left locked side locked and I called for help but I couldn't get it out," Jackson said.
His left arm was stuck at 120 degrees so he grabbed the shower curtain rod.
Jackson had a seizure, fell and hit his head.
With that crash, Jackson's brother, Charles Lecounte, came into the bathroom and found him lying unconscious.
"My mom tried to wake me up but I was blacked out," Jackson said.
Jackson was rushed to the hospital. All he remembers is waking up in a dark room.
The doctors weren't able to figure out what was wrong for a while. Jackson ended up being allergic to the antibiotics they gave him.
Eventually, they found out Jackson has lupus.
…
According to the Mayo Clinic, Lupus is an autoimmune disease that occurs when your body's immune system attacks its own tissues and organs.
In short, the very system that's supposed to be protecting your body is actively attacking it.
Jackson didn't think much of the disease when he was told he has Lupus.
"When I first heard it I'm like 'What is lupus?'" Jackson said. "When you hear lupus, you think maybe it's some kind of cold."
But Lupus is nothing like a mild cold. In fact, it's treated the same way cancer is with intensive chemotherapy.
"When they told me that (lupus) was similar to (cancer), I was worried and scared that it might be over for me," Jackson said.
He ended up going through six months of chemotherapy and was paralyzed for almost two months.
Jackson also has blood clots in his kidney, liver, spleen, and brain.
…
In the Book of Job, God proudly calls a man named Job living in the town of Uz "blameless" and "upright," but Satan says Job is only good because he has been dealt a good hand life.
So, God challenges Satan to do his worst with Job to show that no matter what will praise the Lord.
Satan then takes all of Job's wealth and kills his children and servants.
Despite his grief Job still praised the Lord saying, "Naked I came out of my mother's womb, and naked shall I return: The Lord has given, and the Lord has taken away; blessed be the name of the Lord."
So, Satan goes further giving Job boils. His wife prompted him to curse God for his misfortune but Job answers, "Shall we receive good from God and shall we not receive evil?"
No matter what the devil threw at him, Job remained faithful to.
In the end, Gob restored Job's wealth, family and health.
"I picked the Bible one day and read the Book of Job," Jackson said. "After that I felt like that was it. I put my faith in God and accepted it."
Lying in the hospital, Jackson could identify with Job.
The Lupus gave Jackson painful sores, similar to Job's boils.
"Everything that Job was experiencing I felt like I was experiencing figuratively and literally," Jackson said.
Jackson realized that in order to get through his ordeal he would have to commit himself to God, just like Job did.
"(Job) was blessed and doubled everything he had," Jackson said. "I just took that as if I keep my faith and I keep doing what I'm doing God is going to give me double of what I have."
…
A month after falling in the shower, Jackson came even closer to death.
"It was the scariest thing to ever happen to me," Jackson said. "I really felt like it was over. I tell people about it but they're like 'Nah,' but that's how it was."
For those who have spent a lengthy amount of time in a hospital, they'll know it is not an easy place to get rest.
With all the announcements, people walking by and talking, doctors and nurses waking you up to make sure you're alright, it's difficult to have a sleep pattern.
Not to mention all the pain Jackson was in.
Jackson came home from the hospital and was having a difficult time falling asleep.
He desperately needed rest but couldn't find a way relax.
"I was like 'What do I do?'" Jackson recalls. "I have to find a way to put my body at peace. So, I just let everything out. They say when you die you release everything. That's how I felt."
But Jackson did make it through the night.
…
Jackson has loved football for as long as could remember.
He would attend his older brother's games and practices. Football became a focus of the family.
When Jackson was finally old enough to play, his mother signed him up for the Buffalo Wolverines, which played games at Schiller Park on the East Side of the Buffalo.
"(Football) was a family thing," Jackson said. "Once I was four or five I started getting into it. I took it seriously and it became my dream."
He was good at it too.
Jackson was sought after by a couple of private high schools, not only because of his play on the field but also because of his academics.
Current Buffalo State Wide Receivers' coach Alejandro Overton first saw Jackson when he was playing for Wolverines and was trying get Jackson to go to Canisius High School, where Overton was on staff at the time.
Jackson chose to attend St. Joseph's Collegiate Institute in Kenmore where he had a fine career rushing for 622 yards and five touchdowns and catching 40 passes for 345 yards and a score in 19 varsity football games.
Even in his most depleted physical shape, all Jackson could think about was football.
He would sneak out of his room to find six-packs of water, which he would curl like dumbbells.
"My left side was weak so I would curl," Jackson says. "That way I get back to where I needed to be so I wouldn't have to waste so much time. Losing scholarships depressed me so I had to work 10 times harder to get to where I wanted to be."
Jackson would even make his way to Coyer Field last season to watch practice.
"It was incredible," Overton said. "He went from being really sick to coming to practice. He couldn't do anything but he would come anyway. Just him being around and fighting through his adversity was incredible. A lot of kids who get hurt won't come to practice."
…
Back in 1861, six Lasallian brothers came to Buffalo from New York City and Montreal to establish Buffalo's first Catholic high school, St. Joseph's Collegiate Institute.
Today, the school has an annual enrollment of over 700 students. Upon joining the Lasallian school, young men become part of a 'brotherhood'. One that not only provides a sense of belonging in their four years there but lasts the rest of their lives.
It wasn't until after he graduated from St. Joe's that Jackson would realize how important that 'brotherhood' would be for him.
Jody L. Lomeo is the CEO and president of Kaleida Health and the Great Lakes Health System of WNY. He's in charge of the area's biggest health organizations and was a main leader in the development of the new John R. Oishei Children's Hospital in Buffalo.
Lomeo is also a member of the 'brotherhood' as a 1986 graduate of the Kenmore Avenue school.
"He made sure that I was taken care of," Jackson said. "Being at St. Joe's, you really form brothers. (Lomeo) being there made me feel at home. I could call him and say 'This is what's going on' or 'I need to get back to the hospital' and he made it happen."
Jackson has been returning the favor by mentoring Lomeo's son.
Jackson received a lot of support from his St. Joe's family during the ordeal including visits from classmates, teachers and recently retired president Robert T. Scott.
…
About a year and a month after the accident in the shower, Jackson finally got the news he had been waiting for so long to hear.
He's not completely certain on the exact date – partially due to the disease – but also because he had to visit six doctors to get the all clear, but it's a feeling Jackson will never forget
"It sent chills through my body," Jackson says. "There were days in the hospital when I used to be like 'Man, I don't want to do this or that' but not being able to (play football) makes me appreciate it."
His mother's reaction was priceless.
"The expression on my mom's face was heartwarming," Jackson said. "She put in a lot of work as a single parent sending me to camps and school to play sports. Playing football makes her proud."
Jackson also thanks Buffalo State head football coach Jerry Boyes and his staff for allowing him to play despite his condition.
"It's a blessing," Jackson says.
But according to Overton, it's the Bengals who are blessed to have Jackson.
"He has a different energy," Overton said. "He's somebody you need to have on your team. I'm glad he's with us and not somewhere else because would kill us if he were on another team."
…
Despite going through chemo and being cleared to play football, lupus is not all in the past for Jackson.
Every day the disease affects him.
"I feel pain every day," Jackson says. "But I have it to where I know how to embrace."
"Lupus fog" is a common symptom of the disease that causes memory loss making easy to do tasks like elementary math extremely difficult.
"I couldn't remember three times three," Jackson said. "You start to get angry and depressed."
Jackson had to accept that he couldn't get rid of his "lupus fog", but he could work to curb it.
Every night, Jackson would go down in his basement and work on simple multiplication and addition.
Remembering everything your professors and coaches say is already a difficult task for most student-athletes, but with "lupus fog," it's far more difficult.
"I have to work 10 times harder to remember the fact that this play is going this way," Jackson said. "You have to just deal with it."
Besides the challenge of remembering plays, the weather serves as an obstacle that Jackson needs to deal with whenever he takes the field.
In extreme heat, his rash comes back. So, Jackson has to remember to wear sunscreen.
When it gets cold he loses some circulation to his hands due to a condition of lupus called Raynaud's Disease in which the blood vessels contract.
As a wide receiver, a position in which the hands are imperative, it's extremely difficult to play with.
"My fingers turn red, then white and then blue," Jackson said. "My fingers are really killing me but I still have to play because there's nothing I can do about it."
…
There wasn't a whole to celebrate in the Bengals' 56-27 Week 2 loss at Adrian on September 8.
But there was one moment late in the fourth quarter which made the five and half hour trip worth it for the Buffalo State football team.
With under five minutes left, the Bengals had the ball at the Adrian one-yard line.
Quarterback Kevin Torrillo went back to pass. Jackson was lined up on the right and ran over the middle where Torrillo found him his for the first collegiate score, something many doubted would ever happen a year ago.
"I had a spot route," Jackson said. "As soon as I got there I was open. (Torrillo) saw me and we looked right at each other and dumped it right to me. There were two (Adrian) players there so I knew I was going get hit."
"When I caught it I thought, 'I'm not letting this ball go.' At first, I didn't hear anything because I just got hit. I was thankful to everyone."
His mother and brother also made the trip the Adrian.
"I almost shed a tear when he scored that touchdown," Overton said. "His battle for a year and half of possibly not walking again to catching a touchdown in a college football game."
…
A decade after the Lasallian brothers created the groundwork for the 'brotherhood' that helped him through the most difficult ordeal of his life, Henry B. Buckham laid the groundwork for what Jackson wants to do for the rest of his life.
In 1871, Buckham was the principal of the brand-new Buffalo Normal School, created solely to train teachers to teach in the area's public schools.
147 years later the Buffalo Normal School went from a three-story Victorian building on the West Side to becoming Buffalo State, a 127-acre campus with training teachers remaining the heart of its mission.
Jackson has always wanted to help people.
He originally was going to go to school to study physical theory, but his ordeal altered those plans.
Now, the freshman feels that his calling is to be a teacher.
"Kids spend most of their day in school," Jackson said. "So, if I'm in school with them I have a better chance to influence them."
The freshman education major is interested in history but hasn't set his sights on any specific area of focus.
However, Jackson feels he can serve as a role model to kids, especially those who grew up similar to him.
"Being an African American male, I feel that I can go into these inner-city schools and relate to these kids," Jackson said, "to influence them from a wrong route."
…
After going through two near-death experiences and having another scare in the lobby of Children's Hospital, the idea of going through it again is always in the back of Jackson's mind.
When he's home alone and steps into the shower or he's sleeping and something just isn't right, he can't help but have flashbacks.
But Jackson refuses to live in fear.
"Everyday I worry about it happening again," Jackson says.
He pauses.
"But I can't be scared of it. If I'm scared of it I'm not going to live how I want to."