Cross country struggles in Purple Valley Classic
Team looks ahead to more important competitions after finishing near bottom in weekend race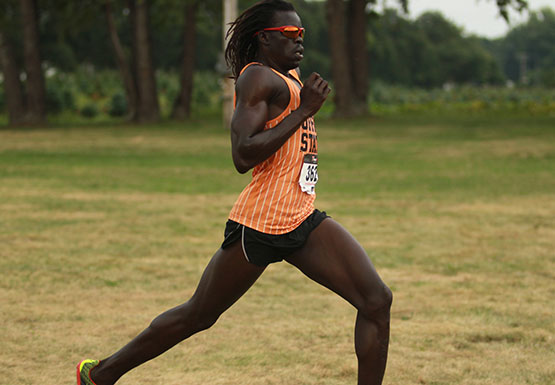 The Buffalo State men's and women's cross country teams competed in the Purple Valley Classic last weekend in Williamstown, Mass.
Both teams finished ninth out of 13 teams.
Head coach Dustin Dimit said the team's main goal was to keep everyone healthy — or, if they were already injured, to get them back to full health and keep preparing for the more important meets later on in the year.
Dimit said that where they place as a team doesn't matter as much to him early in the season.
"Going into this week's meet, it was more of simulating things on a tougher course," he said. "This will be the hardest course we will run on all year. It was super hilly and there were a bunch of nationally ranked teams so it was just more trying to gauge ourselves against them and also experience that course, the first road trip, and those kind of things so [that] we're more prepared for those championship meets later in the year."
The top men's performer for the Bengals at the invitational was Bumkoth. He finished 27th out of 151 male runners with a time of 27:30. Jiak used this meet as a way to get ready for what's still to come this season.
"My focus right now is the upcoming weekend," Jiak said. "I want to run well on it. That's [a] bigger race, and the following couple weeks after that [are, bigger too]."
Some of the other top male performers were Kyle Foster, who finished 47th with a time of 28:05 and Nick Zagmester, who finished 59th with a time of 28:40.
The top women's performer this week was Julia Smith, who finished 56th out of 159 female runners with a time of 24:26. Smith had the fastest time of any Bengal runner and wanted to use this week to really get back into things after she missed last week's meet with an illness.
"My workouts have been going really well and my speed has improved and everything else, so I was really pumped to run this meet and I was really pleased with how I did," Smith said.
Some other top female performers on Saturday were Sharae Smith, who finished 59th with a time of 25:34 and Tara Murphy, who finished 65th with a time of 25:54.
This weekend, the Bengals will travel to Hanover, Indiana to compete in the Pre-Nationals, where Dimit hopes to continue to gauge the team against national-level competition.
Leave a Comment