Vice President for Finance and Management announces retirement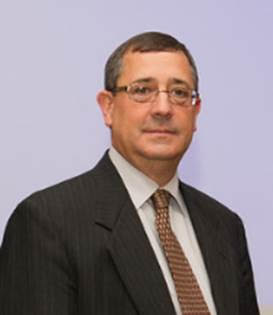 After serving the SUNY Buffalo State community for nearly six years, Vice President for Finance and Management Michael LeVine will retire this August. His decision was announced in February via a post on The Daily Bulletin from President Katherine Conway-Turner. LeVine has been in higher education for nearly four decades, a milestone which he will reach this summer.
"I'm staying because I wanted to make 40 years," LeVine said. "I could've retired five years ago, it was something that I looked at as a challenge and I wanted to try it."
As a Buffalo native, he has established his personal and professional roots in New York state, beginning with his position as auditor for the state comptroller upon graduating from the University at Buffalo (UB).
"Having a long-term career in colleges and universities was not something that I envisioned when I left college" LeVine said, "but it was great that I got steered that way and been involved for so long."
Prior to joining the Buffalo State community, LeVine worked at UB for 28 years, where he began as an internal auditor and ultimately became associate vice president and controller. He found his transition to Buffalo State a beneficial option to advance professionally while staying local.
"I've lived in Buffalo all my life and wasn't leaving Buffalo;" he expressed, "so if I had the opportunity to move into a vice president position, it was going to be in Buffalo."
LeVine has made many contributions to Buffalo State since his appointment, including the implementation and staffing of a new financial reporting system. He serves on the Budget Committee along with President Conway-Turner and Provost Melanie Perreault.
Although his title contains only two areas of responsibility, finance and management, LeVine's involvement extends far beyond these. He is also engaged with the campus' most active departments, including Human Resources, the University Police Department and Facilities Construction & Maintenance. His responsibilities include, but are not limited to, facilitating business operations as well as handling campus grants and contracts and managing custodial and grounds maintenance.
Since taking his position, LeVine has recognized the distinction of Buffalo Sate faculty and staff involvement with student life. The college's emphasis on community and inclusion extend not only to students, however, but to those who serve within the college as well. For LeVine, being seated onstage during graduation ceremonies is a unique and heartwarming gesture.
"It's very rewarding to be on the stage and to see all those students and to see how excited they are," he said, "and that's something that I would never have gotten if I wouldn't have moved into this position."
Although LeVine described his overall experience as rewarding, it has not been without its challenges. He compared the campus to a city, in which complications involving UPD incidents, weather-related issues and working with the state budget are factors that can cause difficulties in the functioning of campus life. Because LeVine oversees much of the college's staff and operations, he is one of the primary figureheads involved with crisis management, which can be an additional concern to his workload.
"When we don't do a good job, I hear about it," he laughed.
Although his retirement is months away, LeVine said the experience is not yet emotional for him because he still has many responsibilities, including running a search committee to find his replacement before his August departure.
"I think it'll be more emotional then, and then it'll be some uncertainty;" he reflected, "'Am I doing the right thing?' 'What am I going to do if I don't have to get up every day at 5 o'clock and be here?'"
One thing LeVine is looking forward to, however, is dedicating more time to his family, including his wife of 38 years, three children who were all students at Buffalo State, and grandchildren, including one on the way who is due in July.
"When I make a commitment to the job, I make a full commitment; and it's a 24/7 job and I would like a little flexibility," he said.
As a self-proclaimed handyman, LeVine also anticipates being able to rebuild his shed and his decks and perhaps even using his skills to help others.
"If I do some work on the side," he said, "I think I'd rather go work at Home Depot or Lowe's and help other people out."
LeVine did not completely rule out continuing his involvement with higher education, however. He explained he wouldn't mind staying involved with projects relating to Buffalo State or SUNY, and he has even considered teaching. He entertains many possibilities for his post-retirement life,  as he continues to prepare for this next chapter.
"There's some uncertainty, but we'll see," he said.
*I would personally like to thank Vice President LeVine for his contributions, not only to our stories, but to our campus. His dedication to SUNY Buffalo State and community is stellar.