The University Police Department sits with students to talk community policing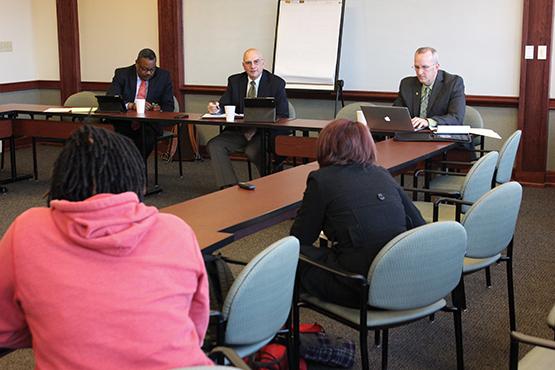 On Tuesday, April 24, the Community Policing Advisory Committee (CPAC) and the University Police Department (UPD) invited students to engage with UPD officers over coffee and doughnuts.
The gathering, which took place in the Fireside Lounge of the Campbell Student Union, was the first of its kind. Representatives of the CPAC sought to familiarize students with the Buffalo State Community Oriented Policing Philosophy,  and the members of the university police  force who serve and protect the campus community. By giving students an outlet to ask questions and address their concerns, the CPAC hopes to dispel misconceptions about campus law enforcement.
"We look at community policing as a community," said CPAC Co-Chair and Residence Life Office Director Michael Heflin.
"It's not the police against the students or the faculty, it's the faculty, students and the staff coming together to live the community policing philosophy that we created three years ago."
The Community Oriented Policing Philosophy emphasizes safety, empowerment, accountability and partnership between the campus community and officers. The preamble to the philosophy's constitution cites the importance of fostering positive relationships between students and the University Police while implementing a supportive community-oriented approach to law enforcement.
CPAC, which was established in 2015, partners with the UPD to advise President Katherine Conway-Turner and Vice President for Finance and Management Michael LeVine on the philosophy and initiatives to uphold the safety of campus life.
LeVine, like Heflin, also emphasized the importance of community involvement to ensure the safety of all on campus.
"A lot of people look at it as police responsibility; it's really all of the community," LeVine said.
Despite many issues within the current social climate being reflected in college campuses, Buffalo State law enforcement's approach to protecting students' and their rights is by recognizing potential issues in order to effectively address them, should they arise.
CPAC Co-Chair and Associate Professor of Biology Robert Warren mentioned the benefits of community policing.
"We have not had racial incidents on campus, we have not had offensive speakers, things that we're seeing elsewhere in the news, we have not had police violence against students; but we talk about these things and try to be proactive," Warren said.
Warren also explained the committee's aim to address these issues even if students do not express their concerns directly.
The lack of student communication and involvement, could be detrimental to the safety of the entire campus. Lt. Richard Myers of the UPD stressed the need to educate students about safety procedures and to encourage engagement.
"If we could do a better job at educating," he said, "I think we could lower the crime. We don't even have a high crime rate, but of course we could still lower it. There's always room for improvement."
Myers cited property theft as the most common criminal activity on campus; this information comes in the wake of a recent armed robbery in Cassety Hall, where two non-students forced entry into a campus resident's room and made off with cash and a cell phone. Students who wish to learn more effective ways to protect themselves and their belongings are encouraged to seek educational resources and training by reaching out to the UPD.
"Our department offers a number of educational opportunities, so we'll come out to any organization or group on campus, or even small groups," Myers said.
"We'll do a 15-minute presentation, or we'll do an hour-long presentation and we have a list of topics that we teach about."
That list includes education and training on personal safety, women's self-defense, drug and alcohol awareness, active shooter training, conflict resolution and what to do when stopped by police.
In addition to educating students on safety measures and procedures, Myers believes student outreach and involvement with UPD resources can also establish connections between students and the policing community, another of UPD's main objectives.
"It's not just the educational component, but it also gives you the chance to meet one-on-one with an officer and get to know somebody," Myers said.
With only 25 UPD officers serving and protecting an estimated 10,000 students, as well as faculty and staff, the involvement of the campus community is of utmost importance.
"It's in all of the students' best interests to keep our environment safe and crime-free and we want do it together," said LeVine.
Helfin also encourages students to reach out to the CPAC, which has representation from campus faculty, staff and students, including members of the United Students Government (USG) and graduate students.
"With the cross-section of people that we have on this committee, it allows us to pull from different areas," Helfin said.
Representation of all campus community members is essential to promoting the CPAC's philosophy.
"The idea is that we have as many of the players on-campus involved with the community policing philosophy as we can get, so this reaches out everywhere," said Myers.
Neseemah Coleman, USG Senator and community service chair of E-Board, was among the student representation for the event. While she expressed her support of the event, she also expressed disappointment in the lack of student turnout.
"I think it's a great idea for university police to come out, but unfortunately, there aren't many students," she said.
"It would be great if more students came out and got to know the people who oversee what's going on on-campus."
The event was catered by Chartwells, the parent company of Buffalo State's Dining services. Chartwells' Resident District Manager Glenn Bucello expressed the company's support for the CPAC's initiative.
"We're just here to support Mike [Heflin] and his group and just try to bring people together," he said.
Chartwells is actively involved in supporting Buffalo State's community and events, which reflected the day's theme, community among all constituents of campus life and services.