Jam out to Mike Posner, watch some lacrosse, shop and brunch this week with Step Out Buffalo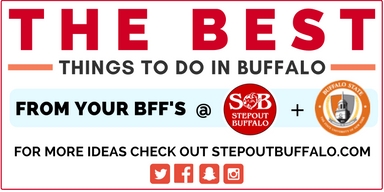 NCCC Thunder Fest– AKA an outdoor event with a BUNCH of fun stuff for (only) 5 bucks💸! They've got live music🎶, featuring Mike Posner and special guest Howie Day, carnival rides, airbrush tattoos, a dunk tank, rock climbing wall and face painting🖌- and that's all included with your ticket. FYI: They will also have food trucks 😍 onsite for you to indulge in some delish meals. It's THIS FRIDAY people, from 3-10pm (show starts at 8pm). See ya there!
BUFFALO BANDITS VS. ROCHESTER KNIGHTHAWKS– If you haven't been to Bandits game yet, you really need to get to one. They're not like any sports game you've attended and they're a whole bunch of fun- with nonstop music🎵, giveaways, and pure entertainment from the players (and fans). And this Saturday is the LAST game of the season- which means fan appreciation night (and the best crowd), so you need to be there.
Makers + Shakers Boozy Artisan Market– THE shopping event 🛍you need to be at. It's here, guys. This Sunday. Step Out Buffalo is taking over the entire first floor of the historic Hotel Lafayette for the shopping event of your life – Makers + Shakers Boozy Artisan Market (Spring Edition)- and you're def going to want to be there. Expect a lot more than just your typical vendor fair. For 5 (!!!) bucks, you get to shop around at the 75 local businesses, artisans, booze-makers and vendors coming your way😍. Plus- FREE samples, a live DJ, a build-your-own Bloody Mary bar, some magical concoction called Unicorn Mimosas, a cash bar and. More. Free. Stuff. Could it get any better? The answer is yes bc FREE parking (Adam Ramp)👐.
BRUNCH- BC WHO DOESN'T LOVE IT?? We're obsessed with it here in Buff. Good news- Step Out Buffalo is all about it and is constantly updating us on the BEST places to get a darn good brunch🍽. Here are some places you'll want to check out😉:
The Steer
Public Espresso
Gypsy Parlor
Chez Ami
Mac's on Hertel