Buffalo State entrepreneur makes cosmetology career shine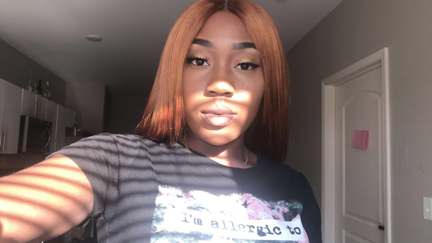 Each entrepreneur has his or her own story that deserves to be told. They can be used to teach, inspire or help others choose the path they want to take. Promoting small businesses is also something that has become increasingly popular as of lately. To add to that trend, I interviewed Emané, owner of ATouchofNÉ.
What is your major and college level?
Currently, Buffalo State has helped me realize that I want to go to cosmetology school so that is where I'll be taking my talents next semester. This is my third year at Buffalo State though.
What is the name of your company and why did you choose that name?
The name of my company is ATouchofNÉ. I got the name because of my aunt's boyfriend. He was actually in the business field like I am. He became my business partner. He mentored me and taught me to pick a name that is connected to me and has a part of my name in it. He told me it would make the company more about myself and pull the whole thing together.
What is a fun fact or something may not know about your company?
My company started out as just hair. That made me change the name of the company from Blackallure to ATouchofNÉ because it makes it more general.
How did you start your business?
I started my business freshman year when I came to Buffalo. I was doing my own hair every week. I lived in Porter Hall on the 8th floor and that is where I met my friend Chantel. She introduced me to some of her friends and they started asking me to do sew-ins for them. After that I started doing sew-ins for everyone in my room. So my company started with just sew-ins.
What services do your business provide?
My company provides:
– Sew ins
– Frontals
– Closures (I specialize in these)
– Natural Hair
– Box Braids
– Coloring
– Makeup (Includes makeup deals such as just brows and eyes, glitter beats, natural beats etc. I also do not provide foundation or concealer; though I am lenient If you match my shade I'll use my products on you. )
Do you have experience outside of this business in the same field?
No, I do not have experience outside of my company. Though there was someone who was looking for a female stylist for their barbershop and I was granted that. It didn't follow through though.
What is your favorite thing about the business?
I knew I wanted to do cosmetology from a young age. I couldn't do it when I was younger because of my background. My mom had strict age limits for things such as weaves, makeup or nail polish. So when I finally could do it, it became my passion. I also get excited from seeing people's reactions and the colors I get to dye their hair.
What are the strengths and weakness of having a business such as yours?
My strength would be my persistence. Everyday I record myself plucking frontals and closures and then I look back at them over and over to look for mistakes, I also follow celebrity hairstylists and watch their videos and look for ways that I can make my outcome as close to theirs as possible. I teach myself new things everyday. My weakness would have to be that I'm really lazy and a bad procrastinator. Sometimes, I don't start someone's wig until the day before they need it but at the end they still love the results. The thing is that, once I start I cannot stop.
Do you see your business expanding outside of Buffalo State?
Yes girl! When I go home in May I am going to Empire Beauty School. People tell me that I have potential and because I believe in myself I know I'll make it.
What have you learned by owning a business such as yours?
The term "the customer is always right" is something you have to stand by. My first experience not following this rule was terrible. I can't argue with customers. Even if they are in the wrong, just apologize. I really had to work on customer service.
Can you recall the best experience that you have had with your business?
I broadcasted my business on Instagram and I ended up in the Mask Off event here. It was a makeup competition with three rounds and each was timed. Each round was for a specific type of makeup look. This was my favorite experience because I had fun and I got to show my talent off.
How about a negative experience?
I don't have any really negative experiences. I keep calm. I stay away from arguments. I make sure that I give the customer exactly what they wanted.
Do you have anything that you would like viewers/readers to know?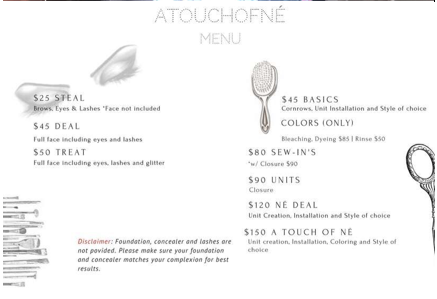 I have a service menu with prices.
You can ask me question questions on:
Loveee.em – Snapchat
No DM's on Instagram – touchofne'
What advice do you have to people who are trying to start a business whether it be in the same field or otherwise?
When you ask people for confirmation don't lose sight of your vision. Make a plan and stick to it. Be able to take criticism. Don't be defensive. Listen to everything people have to say. You don't always have to take it but at least listen. Make sure to have fun. If you don't like what you are doing then change it.
What do you think about this new natural is beautiful campaign that's taking over social media?
I love natural hair. I promote natural hair. Especially if you are getting wigs made by me, it won't hurt to go natural. I actually have a funny story as to how I started going natural. Freshman I decided to perm my hair and then use box dye to make my hair jet black in the same day. My hair started burning off especially since Porter Hall water has chlorine in it. My hair was literally falling out in chunks. I called my mother immediately telling her that I thought I had cancer. From then on, I have been nurturing and taking care of my hair.