Notebook: Carney, Pete ignite offense in fourth quarter
Almost carries Bengals to comeback win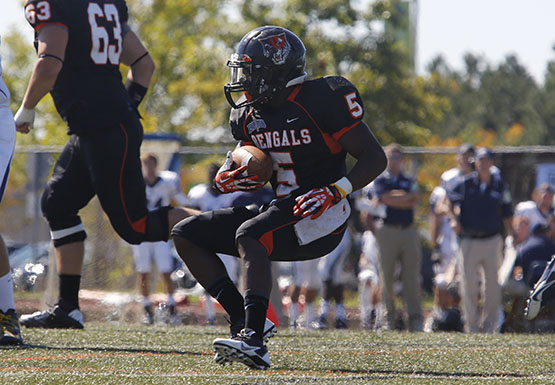 Wide receiver Ryan Carney and running back Rich Pete nearly carried the Bengals to a nail-biting win late in the fourth quarter of Buffalo State's 24-20 loss to Ithaca. But a few key plays down the stretch spoiled Saturday's homecoming game for the Bengals.
Down, 17-7, with six minutes left in the game, the Bengals took over on their own 38-yard line. The drive began with a 16-yard completion to Carney, who had 67 yards on a team-leading seven catches for Buffalo State.
After a pass to Carney fell incomplete, Pete gained four yards on a run and then converted on 3rd and 6, taking a screen pass 21 yards to the Ithaca 31, where he was shoved out of bounds.
Two plays later, Pete caught another pass for a big gain — 28 yards to Ithaca's 3-yard line — but it was called back on a penalty. On 2nd and 15, Pete ran for 22 yards, setting up a 14-yard touchdown pass from Casey Kacz to Sherman Nelson to bring the Bengals within three.
After the defense forced Ithaca to go three-and-out on the next drive, Buffalo State took over with 1:52 left in the game.
Once again, it was Carney and Pete who carried the Bengals downfield for a score. In just 47 seconds, Carney racked up three catches for 20 yards, and Pete added 25 yards on two rushes, including an 18-yard touchdown run to give Buffalo State the lead, 20-17.
After Bengals' kicker Alex Debbins missed the extra point attempt, Ithaca's offense marched down the field, gaining three first downs on their first three plays of the drive.
On 2nd and 10, from just inside the Bengals' 30, Ithaca's Vito Buffoli caught a short pass in the middle of the field. Buffalo State's Justin Medley went in for the tackle but couldn't bring down Buffoli, who stayed on his feet and ran up the middle for what turned out to be the game-winning touchdown.
The Bengals took over on their own 26-yard line for a last-gasp effort. Down by four with just 22 seconds left, they needed a miracle, and almost got one on a deep pass from Kacz to Carney, who hauled it in about 50 yards down the sideline.
But Carney couldn't keep his feet inbounds, and the pass was ruled incomplete.
Need proof that football is a game of inches? If Medley made that tackle, if Carney made that catch, the Bengals would almost definitely be celebrating a win over a tough team in front of a huge homecoming crowd.
Instead, the Bengals are left wondering: what if?
Email: [email protected]
Leave a Comment