Bengals' keys to victory in Empire 8 opener vs. Ithaca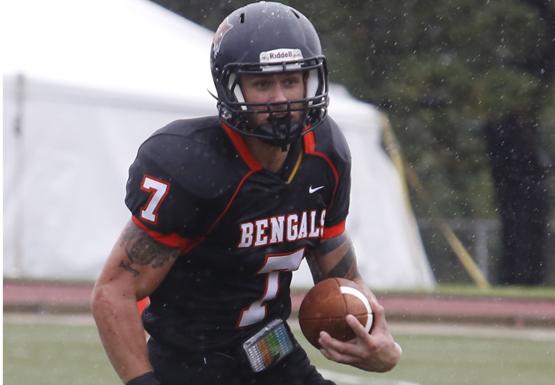 The football team is 2-1 three weeks into the season.
Not bad, considering the only loss was last week to No. 15 Wisconsin-Whitewater – a perennial power in D-III football.
This week, the true test begins. Buffalo State opens up Empire 8 play today against Ithaca, looking to bounce back from the trouncing it received last week.
Ithaca is 2-0, with wins against Moravian and an up and coming Union squad. Defense is their calling card, and they've given up just 5.0 points and 229.5 yards per game so far.
The keys this week are pretty simple compared to previous weeks, but they are just as vital.
1. Get Whitewater out of their minds
– Last week's game was a mess right from the opening kickoff. What's worse is that the Bengals came in almost expecting to win, and as one player called it, treating the game like a championship game. Losing by such a large margin could have been devastating to this squad if they allow it to fester in their heads this week and beyond. The team has said all the right things this week, so let's see if they can actually go back out on the football field and move on against a new opponent.
2. Keep Kacz upright
– Quarterback Casey Kacz has been nursing an injury since the season-opener, and he played sparingly against Whitewater. The Warhawks only had one sack in the game, but every quarterback who played Saturday had to deal with constant pressure in his face. Kacz said that having the week basically off last week did him well, and he expects to play the full game today, and have more plays at his disposal than he did last week. He has shown that he can make plays when given decent time, so the offensive line really needs to buckle down and give Kacz the clean pocket he needs.
3. Build small defensively
– The defense has struggled mightily this season. They're averaging 41 points allowed per game, and 472.67 yards allowed per game. They need to step up, but the ship won't be completely righted in just one game. Brian Greene told me they saw something on film that makes the defensive line think they can get to the quarterback today. This would be a nice building block for the team, as the defensive line is easily the most experienced group on the defense. Extra pressure would ease the burden on the linebackers and secondary, and might keep the defense from being on the field for extended periods of time.
Leave a Comment