REVIEW: Casting Hall's Cabaret captivates theatergoers with spectacular performance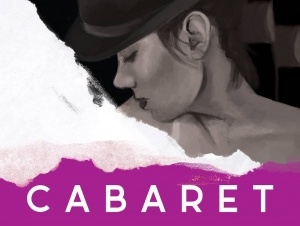 Casting Hall's Cabaret held a preview before their opening night and received the outstanding amount of applause and two thumbs up from this reviewer that they rightfully deserve. Each song was a marvelous ballad; each one being better than the last and the cast shines as they ensconce theatregoers in the world of The Kit Kat Klub. This play is a working marvel and demonstrates just how dedicated Buffalo State's Theatre students are to their craft.
Starring Shayne Jones as Emcee, Lily Jones as Sally Bowles, and Julien Melloni as Clifford "Cliff" Bradshaw, Cabaret delves into the pre-World War II lives of several people who are discovering something new about ho they were through the world of the Kit Kat Klub.
All of the leading actors bring something unique to the characters. Shayne Jones' Emcee shines as an unusual guardian angel, watching over the cabaret and the people who frequent it but is not able to keep the troubles of the world from desecrating the sanctity of the Kit Kat Klub.
Lily Jones shines as the incomparably stunning Sally Bowles and brings the eccentric personality of Mame Dennis along with the undeniable sexuality of Jessica Rabbit. Her performance of Sally Bowles final song, "Cabaret", demonstrates the intense despair and deranged happiness that his character contains.
Julien Melloni makes a great impression as the incomparably sweet, Clifford "Cliff" Bradshaw. He gives the character an edge while still giving the exterior of a sweetheart. His innocence is endearing while his pursuit of morality is intense.
One prime thing to focus on is the chemistry between Lily Jones and Julien Melloni. Both actors have a relationship that is electric, as they play beautifully off one another. One major point to focus on is the scene in which Sally and Cliff are about to leave berlin and they get into a fight. Not only is Sally able to go into her usual casual manner, but also the lack of empathy she displays is magnificent.
The entire cast, even if they didn't have many lines, are wonderful as they display a dry wit or a wonderful romance. An important number is "It Couldn't Please Me More", sung by Fraülein Schneider, played by Kaeli McGinnis, and Herr Shultz, played by Andrew Ross. The audience was so happy for them to get together but also sad about why they had to break their engagement.
Cabaret also has a prominent theme of how Nazism affects the lives of those who frequent the Kit Kat Klub, but is not overbearing with it. This play also delivers every metaphor it can about silence not being activism, an important fact of life. The same can be said for their use of sexual jokes/sexual mannerisms. This production manages to make jokes that are completely understood by the audience.
This production had an interestingly minimal set but makes it work for any scene. The sign displaying the word's "KIT KAT KLUB" is the most interesting part because it is see through. The shadows cast by the band help viewers to really feel like they are in with Emcee and the Kit Kat Girls. The lighting also stands out as it manages to show the increasing madness spreading to the people of the Kit Kat Klub with bright colors being combined with light grays and dark lines.
The ending of the play is the greatest because it now shows the disintegration of all the characters and how Emcee has been consumed by the outside world. He takes off his uniform/officer jacket to reveal that he is prisoner being held in a concentration camp. He disappears back stage and the play ends with the cast rushing out to take their bows and standing ovation.
Director Jennifer Toohey has captured the wild bohemian lifestyle of RENT and pairs it lovingly with the tradition locked mentality of Fiddler on the Roof. She truly makes this production stand out among others. She has staged a great production that stands alone in the world of theatre and doesn't try to imitate any other productions of this play.
For anyone looking for a great evening of theatre look no further than Casting Hall's latest production, Cabaret. So "wilkomme and bienvenue" to Casting Hall's Cabaret!