Eat your heart out at Restaurant Week, dance at Hyperglow and get your fashion on at Runway this weekend with Step Out Buffalo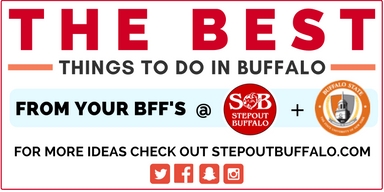 LOCAL RESTAURANT WEEK-This is pretty much all you need to know about this week
. Because while in Buffalo, we eat (amirite)
. Since 2009, local Western New York restaurants have been serving up some delicious plates for CHEAP
 on a special week of the year. Guess what?! IT'S THAT WEEK, GUYS. Let me introduce you to just some of the great deals going on at a few of the restaurants:
Coco Bar & Bistro– 3 Courses for $20.18 with a lot of choices to choose from

Lafayette Brewing Co.– 3 Courses for $20.18 including a flight of beer, salad course, and entree

Osteria 166– One appetizer and an Entre plus an "extra" (dessert) for $20.18

Pho54-$20.18- 4 courses and they even use the words "anything on the menu"

Shango Bistro & Wine Bar– 3 Courses for $20.18

This Little Pig– 3 Courses for $20.18
HYPERGLOW BUFFALO- High-energy dance music, mind blowing performances, live art, AND body painting… ILLUMINATED IN ULTRA VIOLET GLOW. And it's coming to Buffalo

this Friday

at

9pm.

The tour features some incredible dance music talent and leading-edge production and sound design- there's literally something for everybody.
Buffalo State Runway- You are def going to want to be there if you're into fashion (or a good time). The theme is "Interconnect"- where community, creativity and culture meet to bring change. The show will take place at Buffalo State College in the Campbell Student Union Social Hall

Saturday

at

3 pm

and

8 pm

. There will also be a HUGE basket raffle. Grab your tickets online today!

CHICKEN WING DIP- FYI- restaurants making chicken wing dip in Buffalo is a thing. And you need to know about them. So here ya go
:
Big Ditch Brewing Company

Local Kitchen and Beer Bar

Matinee

Pearl Street Grill and Brewery

Wellington Pub