Warhawks Roll Bengals in anticipated grudge match
Bengals' offense held to just 182 total yards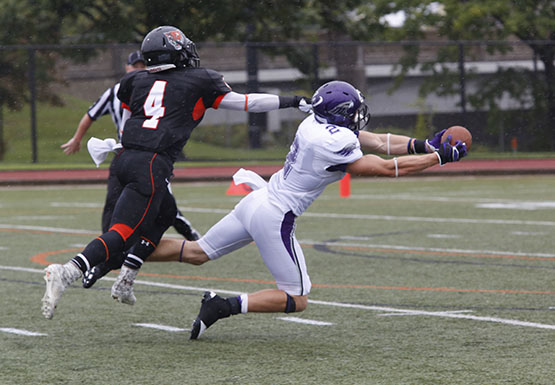 Wisconsin-Whitewater came to Buffalo with one thing on its mind over the weekend: revenge.
The Warhawks got just what they were looking for in the form of a 55-14 thrashing of the Buffalo State football team on a rain-soaked Coyer Field. The 41-point loss was the worst for the Bengals since 2009, when they lost 57-7 to Rowan.
"The snowball started on top of the hill, and became an avalanche too fast," head coach Jerry Boyes said. "And we didn't punch back, you might say. We just couldn't stop that avalanche."
The game started out with a bang, as Whitewater returned the opening kickoff to the Buffalo State 29-yard line. Four plays later, the Warhawks scored the game's first touchdown, on a Matt Behrendt pass to wide receiver Tyler Huber.
After a Buffalo State three-and-out and a Warhawks field goal, Bengals' wide receiver Mike Doherty fumbled the ensuing kickoff return, and Whitewater recovered at the Buffalo State 31-yard line. Another Behrendt touchdown pass — this time to Kyle Christensen — put the Warhawks up, 17-0, less than 10 minutes into the game.
"They're a good football team, and I feel that they came in with a chip on their shoulder," Boyes said. "And we didn't have the same type of a chip on our shoulder."
Whitewater wasn't done. It continued to pour it on, scoring another touchdown before the end of the first quarter, and eventually stretched the lead to 31 before the Bengals broke the shutout.
Quarterback Casey Kacz hit Doherty on a slant pattern on fourth and goal to cap an 18-play drive that put the Bengals on the board.
Kacz, who had limited playing time Saturday, said that Buffalo State was just unable to regain any momentum, even after his touchdown pass.
"Once it got going, it kind of was a snowball effect, as coach Boyes put it, and we couldn't stop it," he said. "… That being said, I think our guys battled pretty good for the whole game."
The Warhawks carried a 45-7 lead into halftime, essentially eliminating any hopes for a second-half comeback.
Defensive end Brian Greene said that he thought the team underestimated Wisconsin-Whitewater after the Bengals' dramatic 7-6 victory last season.
"I think we underestimated them in a sense, and they kind of had an extra little grudge from last year," he said. "We just have to find ourselves, that's it."
The Warhawks scored on two of their first three drives in the second half, before Buffalo State closed out the scoring on a Trey Jones touchdown run.
On top of the 55 points allowed, the Bengals gave up 397 yards of offense. Buffalo State's offense managed just 182 total yards, only 54 coming through the air.
The Bengals also turned the ball over five times, including two fumbles that were returned for touchdowns.
Greene said the reason Buffalo State struggled so much against Whitewater was a lack of team identity.
"Honestly, we just lost our swagger," the senior captain said. "That's one thing we have to find this week, and we have to understand who we are as Bengals."
The Bengals need to find themselves quickly, with their first conference game staring them straight in the face.
Buffalo State hosts Ithaca on Saturday in its homecoming game, which is also the Bengals' Empire 8 opener.
Boyes was a two-time All-American quarterback for Ithaca in the 1970s, and he was the offensive coordinator for the Bombers from 1977-85. But the long-time Bengals coach insists this is just another game on the schedule.
However, Kacz says differently.
"I think if he had to circle one game on the schedule, it would be this one," Kacz said. "This game is a big one, and it being a league game too, it means a lot for playoffs."
Greene echoed his quarterback's sentiment.
"He never talks about it, but we know it means something," he said. "… Last year when we won the game, we saw the spark in his eye and we know that it means something for him. So we're going to go out there and get it for him this week."
Kickoff between Buffalo State and Ithaca is scheduled for noon on Saturday at Coyer Field.
Chris Dierken can be reached by email at [email protected] or on Twitter @cdierken.
Leave a Comment