Meet Maria: artist, graphic design professor and art gallery owner
Standing behind the handcrafted wooden bar in her art gallery, surrounded by friends and fellow art-lovers during an exhibit closing ceremony, Maria Pabico LaRotonda is beaming. An artsy crowd wearing mostly black thumb through the dark, intriguing art while drinking beer and wine and gazing at Tricia Butski's black and white charcoal works. Red strobe lights paint flames on the wall as local country-punk band Soul Butchers are about to play their first set.
Revolution Gallery, which just celebrated its one year anniversary, is the passion project of Maria and her husband, Craig LaRotonda, both local artists, who wanted to introduce Buffalo to their favorite kind of art, pop-surrealism. It's a kind of outsider fringe art where something unusual, or dark, or something surprising is often happening in each piece.
Dark and unusual are two words that describe Maria and Craig's striking, head-turning art well. The prints for sale at the front of the gallery highlight some of Craig's work, including a painting of a nude Adam and Eve eating meat with blood dripping down their hands and mouth in front of a dark Garden of Eden. The art on the walls, one side displaying an eclectic gallery wall of works and the other just a few, large paintings from their current exhibit, describe pop-surrealism better than words can. Skeletons next to innocent children next to bats, each painting is intricate, colorful and a bit shocking. A basket of felt pins depicting brains, bloody teeth and a dog saying something sexual are all for sale.
"For this kind of artwork, Buffalo had nothing," Maria said. "So we thought we'd bring this new market that people haven't seen before and really fun, good artwork, challenging artwork, for people to come and see."
Maria and Craig have been showing their art for years, from gallery to gallery across the world, some in Paris, Los Angeles, New York City, but never Buffalo. Before their gallery opened, the closest place to see pop-surrealism was across the border in Toronto.
"We get a lot of questions about 'What is this?'" Craig said. "But I think [people] see this kind of art everywhere. They see graffiti art, that's not necessarily what we do, but that falls into pop-surrealism categories… They weren't the fine artists showing in traditional galleries."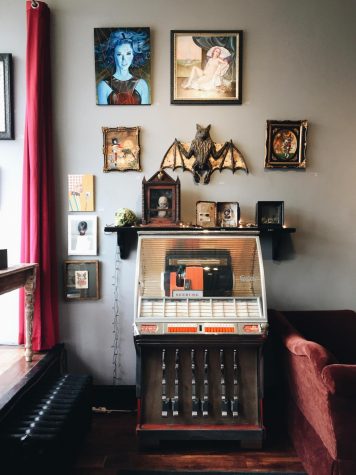 After the couple had set their vision on opening a gallery, they were priced out of Buffalo's artsier Allentown and Elmwood Village quickly. They heard rents on Hertel Avenue were climbing, so they jumped on an opportunity for a space when The Second Reader Bookshop moved next door.
However, the space was covered in "weird" carpeting, wall-to-wall books and wallpaper. It was obvious they were going to need to renovate.
So they thought, "Let's do a Kickstarter and see what happens."
Kickstarter is a website to crowdfund a project or a start-up. They set a goal— to raise $15,000 — which would cover basic renovations and initial costs — in 30 days. They gave out small rewards, like prints of their most popular works and wearable art accessories, to people who donated.
Maria is a graphic design professor Buffalo State's communication department and when her students found out about the campaign, many pitched in.
"My students came in and they're like 'So we all just returned some bottles from a party, we got like 15 bucks, we're going to donate to your Kickstarter,'" Maria said.
The only kicker is if you don't meet your goal, you don't get anything. They almost fell short and lost it all.
Two days before the Kickstarter campaign ended, they were showing in a gallery in New York City. Still $2,800 away from their goal, they knew they had to do one final social media push, or all this was for nothing. After posting to their friends one last time, the contributions started trickling in… then pouring in.
"All of a sudden my phone's blowing up and then it said 'goal reached' and we're in this gallery trying to be quiet," Maria said. "And we're like 'Holy shit! We're screaming quietly, run out in the streets of Chelsea like 'Oh my god we got our kickstarter!'"
The contributions didn't stop. By the end of the campaign, they raised $3,000 more than they originally set out to, allowing them to do projects they had set for months down the line. Including their bar, custom-made by their friend Brian Wilcox, who did the woodwork at downtown eatery Roost. Their other friend, Chris Goula, helped with the walls and rest of the space. Two plaques are set on the bar honoring them.
"When I say it took a village, I'm not even kidding," Maria said.
———————————————————————————————————–
Some people take a long time to figure out what they want to be when they grow up. Not Maria. She has always been an artist.
"I always say I can't remember when I wasn't one," Maria said, laughing.
Growing up in Rochester, it was all she talked about as a kid. Her father was a doctor, her mother was a surgical nurse, her sister went to school to work for a plastic surgeon, but Maria wanted to be an artist. No one else in her family was especially creative, except for her grandfather, who was a printer. Through watching him, she learned how to set type and became fascinated with it.
In college, at University at Buffalo then Daemen College, she completed four internships. She wanted to see what it was like to be a graphic designer in different settings: a design studio, in-house department, a print shop and an ad agency.
She worked in New York and Chicago doing freelance graphic design for a while. After coming back to Buffalo, she started her own graphic and web design company, Robot Kitten Designs, for which she designs websites, logos, graphics and does social media for clients.
She never expected to be a teacher.
"I fell into teaching," Maria said.
19 years ago, her professor invited her to guest lecture, which became an interview due to a professor quitting last minute. She got the job. She taught at Villa Maria for 11 years, Buffalo State for eight years and Canisius College for nine.
At Buffalo State, she teaches communication graphics and social media and web publishing. She teaches students everything from how to use Photoshop and InDesign, basic design elements and instructions students on how to conduct themselves professionally on social media.
"I think a lot of my students think they're going to come in and be on Snapchat for 15 straight weeks, but it's like 'No, here's the history of the internet,'" Maria said.
Her favorite part? The "a-ha moment." In one of her classes, her students have to build a website from scratch. "I feel like they're learning how to walk, and I'm like 'Oh my god, the kids are walking on their own!'"
Her classes may be difficult, but she has had students contact her after graduation when entering the workforce saying they knew how to do something at work from her class. Those are some of her favorite moments.
Aside from teaching and running a gallery, Maria also works with a few other artists at Artreach, a fundraising group they formed the day after the 2016 election when they feared programs like Planned Parenthood would lose funding.
"I'm really big on multitasking," Maria said.
———————————————————————————————————–
Remember the aforementioned Adam and Eve painting — the nude painting of the two eating meat, blood dripping down their hands? It's not easy to forget. That painting got them kicked out of the Allentown Art Festival.
The festival is a local favorite, with hundreds of artists showcasing their work for thousands of attendees each year. Maria and Craig had been showing in the festival for a couple years. One year they even won an award for best original painting.
The two had their work in their booth, including their dark and unusual Adam and Eve painting. An event organizer saw it and told them they needed to take it down because there was male nudity.
"And we're like 'But the female nudity is okay?'" Maria said.
They refused to take it down. Then the police came and insisted they take it down. They asked if they would be arrested if they kept it up. "If we're not getting arrested, we're not taking it down," she told the police.
They didn't get arrested, but they were not welcome back the next year. After their application to be in the festival got denied, they resorted to other options.
Their friends, who own a restaurant on Elmwood Avenue near Allen Street, offered up their parking lot.
They checked with their lawyer to see if they were allowed to sell their art in the parking lot and were told yes. All they would have to do is get a liquor license for the day. "Hell yeah, let's do it!" Maria said.
After setting up their tents, the police came by again.
"You have to take this down," Maria recalls the police saying.
"No, we are not taking this down," Maria said. The restaurant owner comes out and says yes, they can be here. They both call their lawyers to reaffirm legalities.
"Get all the lawyers out you want on the phone, the Allentown Society says you can't have private sales on the weekend of the festival on this side of the street," Maria recalls the police telling them.
Maria paraphrased the police: "Tell your lawyer we'll take all your shit and you can sort it out in court."
Throwing thousands of dollars of artwork in a van was not an option.
The woman across the street had a storefront, so they asked her if they could set up their site, since the police only said that not allowed on one side of the street.
"We took over her space… her sidewalk, her storefront, her alleyway. The police come back two hours later, we're across the street on the legal side of the street. They're looking at us and we're like 'you can't do anything about this now' and so we had a sale for the weekend and we sold a ton of artwork," she laughs, remembering.
"Take your censorship and cram it," Maria exclaimed as she finished the story.
—————————————————————————————————————–
Over loud music in the gallery where they're getting ready to host Soul Butchers, Craig shows me around their back hallway, lined with some of Maria's work.
Craig and Maria met in a very Buffalo way: at the Lexington Co-op. Well, met again at the Co-op. Back in college, Craig had dated her roommate, and then the two hadn't seen each other again for years until Craig moved back to Buffalo.
He talks about her work excitedly as he gives deep descriptions of the pieces. He describes one piece, which features their niece, a young blonde girl named Evelyn, who often acts as a model for Maria's work. In the piece, Evelyn sits in a white dress, looking angelic in a room aside teeth-baring wolves.
"They're all figurative works and they all very often feature children in dreamlike states and they're passing through and something is about to happen to them or something just happened to them," Craig said. "They're in a transition, an emotion."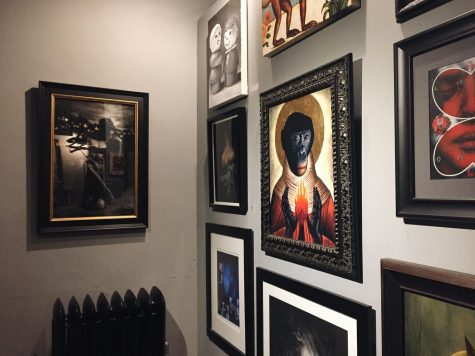 He explains Maria's process with awe. Her work is a hybrid of photography and digital art, "painstakingly made for hours and hours" including photographing and positioning models and layering them digitally. "They're just gorgeous and eerie," Craig said.
Craig and Maria work in tandem. Maria is the curator; she chooses and hangs the art, which Craig says she has a great eye for. She also does the web design for the gallery; Craig describes her as a "whiz" at promoting.
Maria's friend, Amanda Giczkowski, is their third set of hands at the gallery. She helps out with events, serving beer and wine behind the bar this night.
Giczkowski met Maria 15 years ago while studying at Villa Maria college, but she wasn't one of Maria's students. She studied photography, and Maria taught graphic design. At the time, the photography department only had four computers, so if one wasn't available she would sneak into Maria's class and use hers. This is when the two first bonded.
"I don't know how to put her into words. I look at her kinda like a sister. It's nice to be able to work and tag along, and help her out in any way it's done," Giczkowski said.
Giczkowski had her own gallery on Main Street, nine years ago. Hers was more centered around music, with live bands playing nearly every other night. While she no longer has a gallery, she loves the local music scene and being able to learn from Maria and Craig, who she calls a "dynamic duo."
Denise Piando, a decade-long friend of Maria's, is happy to see them expand Buffalo's art scene.
"Both Craig and Maria are some of the most hardworking, dedicated people that I know," Piando said. "They put so much into this space and they are all about art and culture and making Buffalo a better place. They really want to bring Buffalo up to — not that it's not there already — but they want to put it on a national level."
—————————————————————————————————————–
Maria recalls the moment it all became real, over a year ago, when Craig told her they got the keys to the space. She said it was like they were ten years old, "running around screaming 'this is ours'!"
They host a lot of live music. There's a DJ every month, DJ Wise, who spins 80s and 90s alternative music. The Soul Butchers play often, whose music Maria describes as "rock meets country meets punk meets avant-garde." Other frequent shows include a sitar funk group called Norian, a 60s surf band called Lower Town Trio and a live jazz evening with "super old-school jazz."
They also have paint nights, comedy and weekly yoga.
She owns her own graphic design company, teaches. She knows how it is to run a business, but running a brick-and-mortar storefront was different, summing the year up as both difficult and fantastic.
From a vision, to a successful Kickstarter campaign, to a brick and mortar gallery, the LaRotonda's have done pretty well in the past year and a half.
"I never mind coming to work" Maria laughs.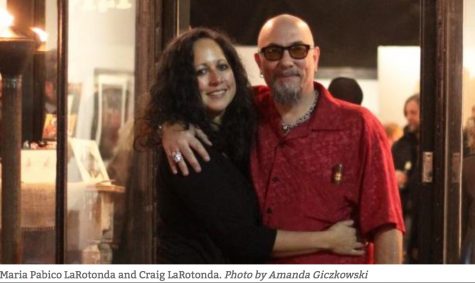 To check out the gallery, visit their website.
---
(This story is a part of our Professor Spotlight Series, a series that highlights some of SUNY Buffalo State's  best professors. If you know a professor you think should be considered for a feature, email the editorial staff of The Record at [email protected]).
Twitter: @chessabond
Email: [email protected]