St. Patrick's Day in Buffalo is not something to be missed. We've got you covered.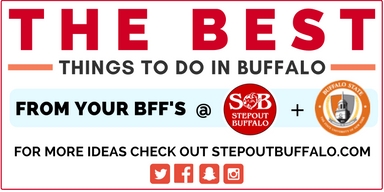 6TH ANNUAL LIVE AT O'LARKIN- So basically, St. Patrick's Day 
 is taking over the entire weekend, so get your green 
 on. What better way to start out the party than by heading down to Larkin Square to catch Irish dancers
, live music by McCarthyizm 
, an appearance by the Greater Buffalo Firefighters Pipes & Drums, plus, your favorite FOOD TRUCKS. Oh, and admission is FREE, so be there or be
. The fun starts at 

5pm

 and goes 'til 8! Parking will be available at 111 Hydraulic Street.
St. Patrick's Day Parade- There are 2, yes 2, giant parades in Buffalo, and you definitely want to make your way out to at least one. Did I mention that Buffalo has one of the largest St. Patty's Day 
celebrations in the US?! Yeah, that's right. You know you want to be a part of it
. So here's the detes/itinerary:
Saturday, March 17

10am

 – Barrel Factory Pre-Party

12pm

 – "Old Neighborhood" Parade starts at the Valley Center (off of South Park)

Sunday, March 18

1-5pm

 – Live music at the 9th Ward

2pm

 – Parade begins on Delaware near the McKinley Monument
Casey Abrams @ the 9th Ward- You may recognize this name if you happened to watch the tenth season of American Idol, when Abrams placed sixth as a finalist on the show. He combines a unique and intriguing style of jazz
, rock 
and blues
. Not only does he sing
, but he also plays several instruments 
to make for an exciting performance! The show starts at 

8pm

!
Iron Jam- Buffalo Iron works is hosting what some would consider a dream come true- an open jam 
 night where ALL musicians and vocalists are welcome to participate in a night of improvised jams. It's absolutely FREE. Just bring your gear
, and you're good to go! Anyone is welcome to come watch as well! The night of improv 
goes from 

7-10pm

!