Buff State alum chases dreams in New York as H&M product merchandiser
Ashley Stablewski got her start in the Buffalo State fashion department.
From the Buffalo Bills to Broadway, this H&M employee took the leap of faith in following the dreams she had her sights set on at just two years old.
Now at 28, Ashley Stablewski is H&M's project merchandiser and helps their branding in the United States and in Puerto Rico. This simple name doesn't do justice to the role that she has at the brand. She must be versatile and wear different hats throughout the year to achieve the needs of the company. She does many different jobs from rebuilding or relocating stores, to analyzing data and put different assortments of product in stores. Stablewski does all this based in New York City, though her roots come from various places, such as, Buffalo and California.
This dream job didn't happen overnight for Stablewski, it grew from a love of fashion she had at a young age.
"My mom used to joke with me, that at two years old I wouldn't let her pick out my outfits," she said.
This interest grew more and more throughout the years. It was when she was a junior in high school that she finally was able to visit the big city and she fell in love.
She began college at SUNY Buffalo State, majoring in fashion. It was here where she felt stuck and wanted an internship in the big apple, but she wasn't in the position to go. Stablewski was able to score a business management internship that qualified her for the fashion industry.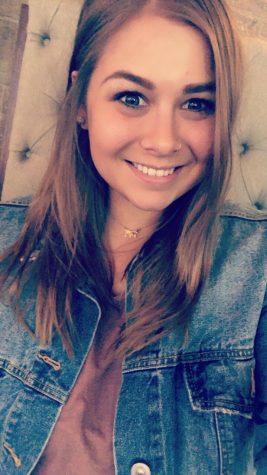 After finishing college in 2011, Stablewski was able to work up in the ranks at the H&M store in the Galleria Mall where she became an assistant manager. She was able to brand for the store and traveled back and forth to Ontario, Canada to work on promoting and branding. Stablewski stayed there for five years until she decided to make one of the biggest turning points in her career and get her master's degree.
She had her sights set on the London College of Fashion in England where she finished a three-year program in just eight months with three different dissertations. After finishing this program, Stablewski was asked to come back to the company and become their project merchandiser. This is a job that is not just about the brand, it's about networking and marketing yourself to get the connections that are needed.
"You have to learn how to market yourself and adapt to your surroundings," said Stablewski.
She even feels that networking in 2018 is much easier than when she began. With all the different social media platforms, this generation really has the reach that she didn't. Ultimately marketing yourself and having the experience is essential to having a job like hers.
Individuals who have a "go-getter" personality are not scared to take a risk that they might get scolded for. These are lessons that have stuck with Stablewski over the years. These skills or personality traits are those that make a good networker.
Honesty is key to being a good boss or employee in this industry, so sugar-coating won't get anyone anywhere and it will only leave people with more questions. Quawia Smith, one of Stablewski's colleagues, mentioned that Stablewski is a hard worker and feels fortunate that she is working with her.
"She is extremely honest in a good way, charismatic, and I'm so glad to have her as a colleague, and anyone would be as well."
Traveling is one of the daily routines Stablewski may deal with. This is called high travel time, meaning that she goes around the country to different cities such as Los Angeles and Atlanta. She goes into the stores and takes inventory on what they have or don't have. She talks with the staff about what trends are selling, current successes, and opportunities to come.
Trends like trousers that can go from work to out with the girls or a jacket that can really pull together any outfit. With this insight she is able to plan for the future in the company in how they brand in seeing what has sold and what is upcoming. In low travel time, she is wearing many different hats. From buying offices in Sweden to marketing and public relations. This time is where she is able to work on some of the ongoing projects with the brand. No matter what time it is, she is working hard for not just the brand but the people and women and the fashion industry.
Stablewski has quite a bit of input in the fashion we see in stores today. In today's world, fashion is changing faster than time changes. It is constantly growing and she feels as though it's becoming more functional to market to the everyday working person. This person needs a style that can be versatile and switch easily between different environments.
"Fashion itself is becoming not only more functional but becoming more available to different segments of the consumer base," she said.
To take a look at this as a whole, it's amazing to see how this woman now works on 5th Avenue in New York City for H&M. Stablewski is someone who has the "passion for fashion" and isn't afraid to take on the challenges that life has thrown at her.