Howlett the Transfer Titan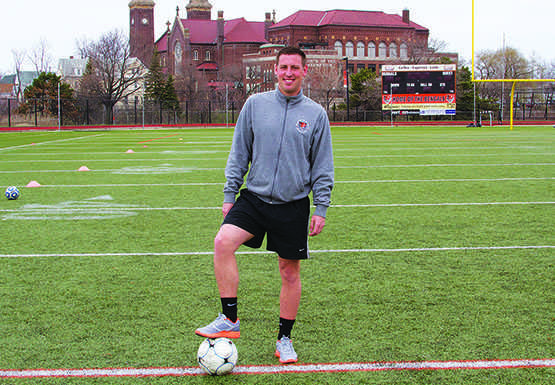 Rome wasn't built in a day but the speed at which Mark Howlett transformed the SUNY Buffalo State Men's Soccer program is something to be marveled at.
When Howlett arrived at Buffalo State in 2013, the Bengals were coming off a one-win season and the program had made the SUNYAC playoffs only twice in 14 years.
As soon as he stepped foot on campus the new coach went right to work recruiting players. Before his first season kicked off, Howlett put 15 new players in Bengal uniforms.
It wasn't the first time the Portsmouth, England native did a complete roster overhaul. In his previous job at SUNY Canton, Howlett brought 24 new faces to the program in his first year.
"It's connections and making sure you know what you're selling," Howlett said. "You go after players that are going to fit. I look at the roster and 95% of them are coming here because of the coaching staff and what the athletic programs have to offer."
The success on the recruiting trail immediately transferred onto the pitch as the Buffalo State Men's Soccer team went 9-9-1 in 2013 and made their first trip to the conference playoffs since 2007.
The key for Howlett's recruiting is to not only spend time on getting players right out of high school, but also putting in the effort of bringing in transfer players from Division I or II schools.
Players who have transferred into Buffalo State have been the key pieces of the Men's Soccer team over the past few years. This year the Bengals were led by two DI transfers in forward Luke Pavone and starting goalkeeper Andreas Queen. Pavone was the program's first All-American since 1984. Of Buffalo State's 2017 27-man roster, six players had come to Buffalo State from a D-I or D-II school.
"Usually something is not going right at the other school," Howlett said. "We're getting guys that their schools haven't got the best out of them and they're looking for a change."
Perhaps, Howlett's openness to getting transfers comes from the fact he went through it himself. After playing two seasons at Roberts Wesleyan, Howlett transferred to Judson University.
It comes down to players figuring out that rather than being on D-I and riding the bench, they can go to a D-III school and play right away.
"Players realize that while they may have their sights set on a certain level when Coach Howlett comes knocking, chances are you will play for a tremendously good soccer program," said Rich Kozack, the boys' soccer coach at Frontier High School. "Do players want the D1 label? Yes, but players want to play!"
Howlett's involvement in youth soccer does not stop with recruiting players. He currently coaches for Global Premier Soccer (GPS) in Buffalo, a premier soccer organization.
As someone who not only recruits from the system but also coaches it, Howlett is not happy with the current state of the American youth soccer system. The biggest problem facing US youth soccer, according to Howlett, is that many markets in the US, including Buffalo, are oversaturated with too many premier teams.
Too many premier teams with not enough good coaching to go around means that players aren't being developed properly.
"Anyone can open a soccer club tomorrow and charge players a decent amount and would get a team straight away," Howlett said. "People, especially parents, are always thinking that the grass is greener."
Howlett, on the other hand, has made the grass a bit greener at Coyer Field.
As head coach of the Bengals, Howlett has gone 50-36-9, making four SUNYAC playoff appearances.
This past season was the best so far for Howlett and his team. The Bengals were ranked as high as No. 13 in the country and after posting a 14-1-3 record in the regular season the program earned a berth in the NCAA playoffs for the first time since 1984.
The Bengals were bounced out in the first round of the NCAA playoffs in a 2-0 loss to Hobart.
Despite the sour ending, Howlett believes that the hardship they went through at the end of the season can be used as a stepping stone for the future.
"It was incredible," Howlett said. "We learned a lot about ourselves. If we are lucky enough to get back there we'll be better prepared for it."
Whether or not the Bengals get back to the NCAA's is unknown, but what is known is that Howlett's commitment to soccer at Buffalo State and at the youth level will never waver.