Swimming rewrites the record book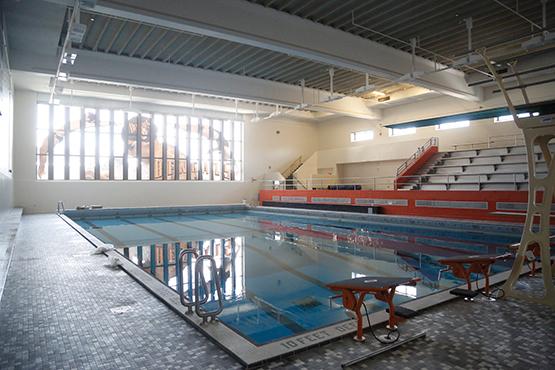 The SUNY Buffalo State swimming teams broke four pool records in their meet against Brockport on Jan. 27, which also happened to be senior day for the team.
Connor Mergler, Cody Wittmeyer, Tanner Rees and Josh Bartel broke the 400-yard medley relay record with a time of 3:38.08. Mergler also recorded a pool record time of 46.22 seconds in the 100 free, breaking his own record.
"Connor Mergler is the leader in the pool for this squad. The best swimmer we've had in the program's history, he's on a mission," assistant coach Adrien Downey said.
Mergler, Wittmeyer, Alec Siskar and Kyle Callan broke the 200-yard freestyle relay with a time of 1:28.12.
"Kyle Callan put together the most flawless 50 he's had all year, and took us from not even thinking about the record to getting it," Downey said.
For the women, freshman Angela McCauley then broke the 400 IM with a time of 4:47.69.
"She's been training extremely hard, she's been doing very high-quality races this season. She aberrated the former record by at least nine seconds," Downey said. "It had to be the record for the how much a record was broken by."
"It's a big day, it's very unusual and in all likelihood that is the most historic performance that a team has at Buffalo State in easily 10 years," Downey said.
Clearly, the fact it was Senior Day helped made the day special.
"It makes the performance that day something bigger than each individual person," Downey said. "For the seniors, it's great to get behind each other and underclassmen to cheer them on. There is always a little bit of magic in the water with those meets."
The team isn't thinking or settling on that meet, though. SUNYAC is almost everyone starting over and you only get one chance so the team is preparing.
"That's a pretty big accomplishment for any dual meet. Usually, that only happens at major meets like SUNYACS," said Tyler Minnick, a senior at Buffalo State. "Definitely an awesome feeling, it's been awhile since we've had a team that could accomplish that."
"Christmas through mid-February they've been working really hard," Downey said. "That time is not a fun time to be a college swimmer."
This past week both the Men's and Women's teams set seven new school records as they competed in the SUNYAC championships. The Men finished in fifth place while the Women's came in ninth place. Mergler was named Male Swimmer of the Meet for the third year in a row.