Student discounts at Albright-Knox encourage students to embrace art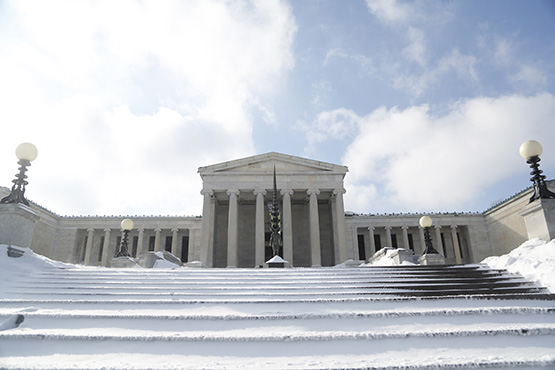 Spring savings are sailing students' way this semester. The Albright-Knox Art Gallery located directly across the street from SUNY Buffalo State, is offering discounted memberships for students.
The cost of admission for one visit is $8. Buffalo State students can purchase a membership that extends the entire spring semester for only $10. A one-year membership, (giving students unlimited access to the gallery,) can be purchased for $25 or, if purchased on the first Friday of the month, only $20.
Memberships include access to all exhibits and art on display in the gallery, with the additional perk of discounted parking and 10% off anything bought inside the AK Café or giftshop.
"Art students should be clamoring for this deal, because being an artist involves seeing art, and having a major international museum across the street is such a great opportunity," said Professor Bruce Adams of Buffalo State's Art Education Department.
The Albright-Knox began collecting art in 1862, and now houses over 7,000 pieces of work in their permanent collection. With a variety of exhibits changing throughout the year, the museum is a cultural hub in the Buffalo community.
"We Wanted a Revolution: Black Radical Women, 1965-85," is the newest exhibit show cased at the Albright-Knox.
"It's a very powerful show for both women and minorities, two groups whose voices are often tuned out by mainstream society," an employee of the Albright-Knox said.
The exhibition focuses on the work of black female artists and activists, highlighting their voices and experiences socially, politically, and culturally during the 1960s up to the 1980s.
A wide array of mediums are displayed in this exhibition including: performance, film, photography, painting, sculpture and printmaking.
"Matisse and the Art of Jazz," also recently opened at the Albright. This is a collection of works by famous artist, Henri Matisse.
The assemblage of works includes pieces late in the artist's career. When a debilitating surgery left him bedridden, he began experimenting with new methods of paper and glue while creating his art.
"They are my favorite. They are wild and colorful and I love them," an Albright-Knox employee said.
"We live at a time when people carry all of the art made throughout all of all history in their pockets. But looking at art on a phone, or even a large monitor is not the same as seeing it in person," Adams said.
"It's a quiet place to go and relax, but mostly, you belong to something important."
Students holding memberships are also welcome to lectures and discussions with the artists of Albright-Knox. A list of events can be found on the Albright-Knox website.
"You don't have to fly across an ocean to see world class art; you just have to cross Elmwood," Adams said.
email: [email protected]
Leave a Comment