Take a tour around the city, eat meatballs and listen to music this weekend with Step Out Buffalo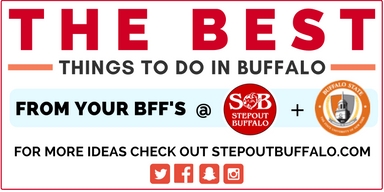 Inside Tri-Main Tour- If you're sick of reading a textbook 
 in your dorm, this is your chance to get out and enjoy a hands-on history lesson from Explore Buffalo! The Tri-Main Center's history encompasses four different eras, beginning with Ford in 1915, and continuing through Bell Aircraft and Trico to the present day as a mixed-use facility housing over 100 different companies! The tour starts at 
2 pm on Friday and ends at the Buffalo Arts Studio, which btw is FREE and open until 8 pm on fourth Fridays! AND, student admission is only $5, compared to the regular admission price of $15!
Andrew Bird- 
Internationally acclaimed multi-instrumentalist
, vocalist
, whistler and songwriter 
 recorded with the Preservation Hall Jazz Band, appeared as "Dr. Stringz" on "Jack's Big Music Show" and Whistling Caruso in Disney's "The Muppets" movie. He has headlined concerts at Carnegie Hall, Sydney Opera House, and festivals worldwide
and has been a featured Ted Talk presenter, a New York Times op-ed contributor, and is an advocate for Everytown for Gun Safety. His performance will begin at

8 pm

on Saturday

at UB's Center for the Arts, and students receive a discounted (!!!) ticket
price of $29! Why not take advantage of the discount and a night out?!
Astreet Meatball Market-
Did you even know that Buffalo had one of these?! Well, now you do. They just opened on the first block of Allen- and I'm sure you can guess what their main focus is- MEATBALLS
. They've got six different sauces to choose from- tomato, pesto, creamy parmesan, mushroom stroganoff, sweet & sour and barbecue. And if you're not sure if you can handle an Italian meal without carbs, no worries- they also serve delicious flatbreads
and sandwiches. This place should def get on your to-go list!
Brunch @ The Rowhouse- Everyone knows that Sundays are for brunch
. Don't hesitate to step foot in this amazing bakery/restaurant for brunch

on Sunday

(

10 am-2 pm

). They really know what they're doing and I don't mean just with food. The decor is unlike anything you've ever seen. Whether you decide to sit in the bright modern cafe, rustic chef's counter, cozy but classy cocktail lounge, upstairs balcony seating in a home library-esque space or the stunning yet homey dining room, I'm sure you will get an extraordinary experience. I would advise making reservations prior because they do book fast!
Leave a Comment