Review: Justin Timberlake gives lackluster performance despite colorful Prince tribute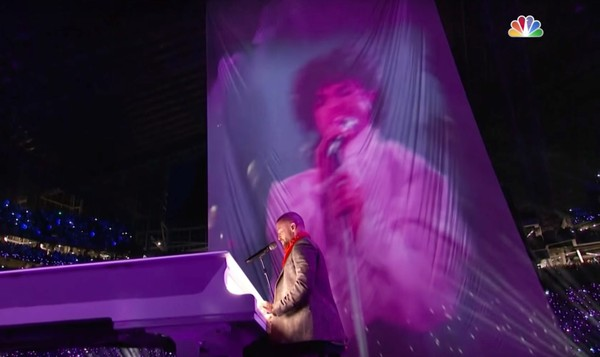 If you were a part of the rest of America this past Sunday night, you saw the most watched sporting event of the year: The Super Bowl. This year the two teams that fought for league victory were the New England Patriots for their second straight year at the Super Bowl versus the Philadelphia Eagles. Although there's supposed to be one victor and one loser at the end of this event, this year there were two losers. The New England Patriots and *NSYNC's own Justin Timberlake.
Being chosen for the Pepsi Super Bowl Halftime Show, Justin Timberlake needed to wow the worldwide audience within the thirty-minute time frame and make his mark on the list of great performances. He performed songs such as "Sexy Back", "Mirrors", "Suit and Tie", and the summer hit from the DreamWorks movie Trolls, "Can't Stop the Feeling!" but that wasn't enough to really satisfy the audience. Of course, many people haven't forgotten the 2004 Super Bowl Halftime Show, when a wardrobe malfunction caused Janet Jackson's nipple to be exposed on live television at the end of her duet with Justin Timberlake.
This raised a lot of rumors of a reunion between Timberlake and Jackson but this was shot down when Jackson posted a now-deleted tweet saying "To put to rest any speculation or rumors as to whether I will be performing at the Super Bowl tomorrow; I will not". Could a re-do of the duet between Jackson and Timberland have saved the show?
Maybe.
But a great moment from the performance was towards the end when a white sheet dropped and a projection of the late Minnesota native, Prince, was shown as Timberlake sung the 1984 hit "I Would Die 4 U" from Prince and the Revolution's album, Purple Rain.
There was controversy leading up to the performance, though. A rumor circulated around that Timberlake was going to perform alongside a Prince hologram similar to the one of Tupac during Snoop Dogg's set at Coachella 2012. This upset fans since Prince responded to a question in Guitar World magazine about performing alongside those that have passed away saying, "Certainly not. That's the most demonic thing imaginable".
While it was a fitting tribute to the late Prince, it wasn't enough to save Timberlake's colorless performance, although, the aerial shot of the Prince symbol around the Viking's stadium was a great touch.
What could've made the performance great was maybe an *NYSYNC song. Timberlake has plenty of hits from his post-boyband days, it would've done great justice to his past and his fans. Another thing that could've made the performance great was more integration with other artists. It's become common to see Super Bowl performances with guest stars popping up, like when Coldplay played for Super Bowl 50 with stars like Beyonce and Bruno Mars also took the stage to give everyone viewing a great time.
Timberlake can be given some slack since this was his first Super Bowl where he was the main act and not a guest, but with pop star status like his, he could've done way better. For now, I can only wish that the Foo Fighters would perform for Super Bowl 53, but that's definitely a long shot.
Leave a Comment