Buy a valentine at a pop-up, laugh at a comedy club or ski this weekend with Step Out Buffalo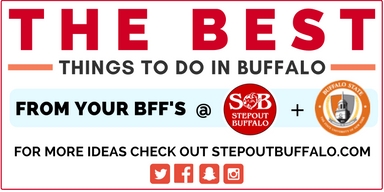 Mountain Man Day- 
If you're one of the lucky ducks who managed to get out of going to class on Fridays, you should def consider taking a mini road trip 
 out to Holiday Valley with some friends for this full day event! You'll probably want to bring your mountain man gear
 for some intense winter activities, including skiing, riding, races, lunch and live music! 
 Don't worry if your skiing and snowboarding skills are not up to par; there will be demos and lessons for beginners at the event. If you're a pro already, bring your A-game for some competitive racing. Registration starts at 
9:30am
 and the event goes until 
5 pm
!
Steve Trevino- 
You may have heard of him before. He's only one of the hottest comics
 right now, with top-rated specials for Showtime and Netflix, along with appearances on "ComicView," "The Late Late Show," and "Comics Unleashed." So, you might not want to miss this one, if you're a fan, or are just looking for a good laugh. Just make sure you get your tickets 
 now.There are 5 shows 
Thursday
 through 
Saturday
 at various times at the Helium Comedy Club.
Harlem Globetrotters- 
This is a MUST-add on your bucket list. The Harlem Globetrotters take basketball
 to a whole new level. You'll want to come witness the ball handling wizardry, basketball artistry and one-of-a-kind entertainment that they bring to the court. And by court, I mean the Key Bank Center, because the court isn't large enough for all of the fans they attract. Game time is at 
7pm
on Friday
, so get your tickets soon!
Valentine's Day Pop-Up- 
Valentine's Day 
 is just around the corner, have you found the perfect gift 
 for your significant other yet?! Thought so. Good news for you, there is still time
 and this small business pop-up at Horsefeathers Market Building 
on Saturday
 is the perfect place to get a unique #buffalove gift for your Valentine, whether that is your significant other or your bff (or yourself- no one is judging). The event goes from 
10am to 2pm
, and you'll also want to stay for a delicious brunch upstairs at Lait Cru Brasserie!
Leave a Comment