Laugh, shop and compete in a poutine eating contest this weekend with Step Out Buffalo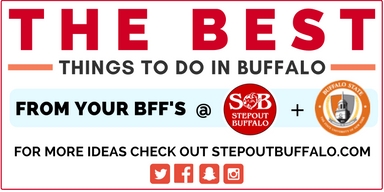 Edge Comedy Night– 103.3 The Edge is hosting a comedy 🎬night Wednesday at Helium Comedy Club for a general admission price of only $5 (but make sure to buy your ticket ahead of time- at least 2 hours before the show)! You can even make this the PERFECT date night by purchasing the "dinner & show package for two" for only $43! The show starts at 8pm!
Lumagination– If you haven't been to the Buffalo Botanical Gardens, now is the best time to go! The greenhouse domes will be decorated with illuminated sculptures accompanied by choreographed lights and sounds🎆. A creative team of students and professors from UB, along with other talented artists, helped to incorporate new technology and theatrical design into the display! So, get out of your dorm and invite some of your friends to come see this cool, Insta-worthy 📸 display. Lumagination will take place every Friday from 6pm – 9pm and Saturday 6pm – 10pm until February 24. AND, students get a discounted ticket price of $12- so don't forget to bring your student ID!
3rd Annual Poutine Eating Contest– Everyone in Buffalo knows just where to go for their late-night poutine cravings- Allen Street Poutine Company. If you haven't gone, you HAVE to try it! Make the poutine eating contest 🍽 your excuse to go this Saturday! If you're daring enough, register (in person) to compete for a cash prize, the coveted golden potato trophy🏆, and most importantly- bragging rights. If you don't think you have what it takes to compete, you can watch the competition for free! The event starts at 2pm!
Grocery Shop and Dine– Elevate your grocery shopping 🛍 experience this week at either (or both) the Pub By Wegmans or Whole Foods. You can expect nothing less than a fresh and affordable Wegmans-made meal 🍜 after shopping at the Pub by Wegmans on Transit! The Whole Food's built-in restaurant menu features a variety of appetizers,100% grass-fed burgers🍔, salads and milkshakes made with nothing but the best ingredients. Who wants to do some grocery shopping now?!
Leave a Comment