Small Business Saturday draws big crowds to local shops
Hordes of people, wearing raincoats and carrying umbrellas, flock to the Elmwood Village for Small Business Saturday, in the rain.
In between Thanksgiving leftovers, shoppers left their houses to participate in the Mecca of shopping local. This national holiday (designated by Congress in 2011) happens the Saturday after Thanksgiving and Black Friday, rain or shine.
"I would say it's the most important day of the year," said Brittany Cunningham, a sales associate at Anna Grace, an upscale clothing and accessories boutique on Elmwood Avenue. "The whole holiday season is but this really sort of kicks it off."
If you don't remember hearing about Small Business Saturday prior to 2010, you probably hadn't. American Express launched the campaign to support local business eight years ago and it spread like wildfire. American Express claims that in 2016, small business owners generated an estimated $15.4 billion across the country on Small Business Saturday. According to Fortune, Americans spent $5.5 billion in on the same day in 2012, just a couple years into the campaign. The amount has tripled in five years.
Small Business Saturday proved to be more than just an advertising campaign; it's become a movement. Following the years after our country's financial crisis in 2008, Americans were spending less money. Combined with the rise of Amazon and online shopping, small businesses were not the first priority. American Express's eye-catching and heavily funded movement to shop local caught on with an eager crowd of community supporters, especially in Buffalo.
Buffalo shopper Sue Macdiarmid has been shopping on Small Business Saturday for five years.
"It's a tradition," Macdiarmid said.
Macdiarmid, like many other shoppers, come out to support local business and because "it's fun."
There are many reasons shoppers come out in waves to support local shops. Boutiques often carry items that cannot be found anywhere else, sometimes not even online. When boutique owners buy their inventory for the season, the brands ensure exclusivity. Designers often will agree to not sell the items online or to other stores in the area to keep originality.
Locally owned boutiques also give back to the community.
Half & Half Clothing Co. collects food for the Food Bank of Western New York. Blush Buffalo contributes gift baskets for local charity auctions and participates in the "Shoptober Bra Crawl" a local American Cancer Society fundraiser.
There is an increasing trend over the last few years of people turning to the Internet to get their holiday shopping done. Cyber Monday follows quickly after Black Friday and Small Business Saturday. According to CNN, there was a 16.9% increase in online sales during this Black Friday compared to 2016.
"With everything being online these days, [Small Business Saturday] is just a reminder to come out and support your local stores, which is everything to us. It's what keeps us in business," Cunningham said.
Brick-and-mortar storefronts are not the only businesses benefitting from this holiday. Step Out Buffalo hosted an artisan market called "Makers + Shakers: Boozy Artisan Market" at the Hotel Lafayette featuring over 80 vendors. The market sprawled over the entire first floor of ballrooms at the downtown hotel and had a line snaking around the main lobby and out the door. Booths varied from shops to breweries to event companies with an abundance of local designers and artists.
Many of these artists sell their products on Etsy.com, a national online marketplace or by traveling to different markets. Another contributing factor to Buffalo shoppers arriving in high numbers is the way the market combined drinking with shopping. "Shakers" refers to cocktail shakers with a make-your-own Bloody Mary bar, mimosa bar and beer tastings.
This is the inaugural year of the market, which brought shoppers together in one place to see and purchase work from artisans who often do not have their own storefront to display their work.
How was the overall turnout for the day?
According to Anne Daigler, a sales associate at Anna Grace, this year's turnout was "really great."
"We've had a lot of people come in and everyone seems to be in a great mood because it's small business Saturday and they're supporting the local community," Daigler said.
"Everyone is super enthusiastic about it," Cunningham added.
Email: [email protected]
Twitter: @chessabond
Leave a Comment
About the Contributor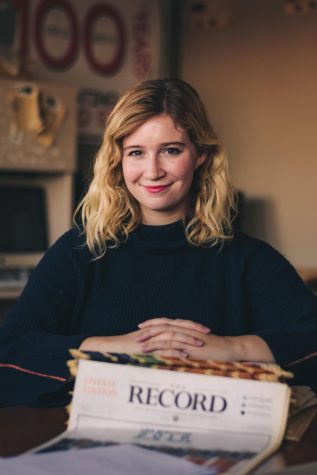 Francesca Bond, Executive Editor
Francesca Bond is an undergraduate student at SUNY Buffalo State. She has a major in Journalism and a double minor in Sociology and Political Science....