Get cultured at the Buffalo International Film Festival, tis the season at Ellicottville Fall Fest and more this weekend with Step Out Buffalo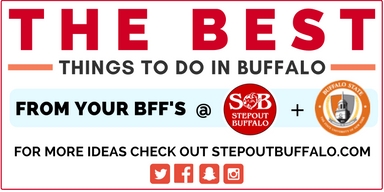 Buffalo International Film Festival (BIFF): Check out some really cool short films from amazing and talented filmmakers from Western New York! BIFF is one of the largest and longest-running film festivals in Western New York and champions local, national, and international films that test the limits of independent cinema. Each year, BIFF presents juried selections from hundreds of submissions to Western New York residents and visitors.
Ellicottville Fall Fest: Ahhh the smell of Fall is in the air which means it's time to head down to the prettiest neighborhood in the southern tier during the fall, Ellicottville. All weekend long at Ellicottville's Fall Fest tens of thousands of festival-goers enjoy unique foods, fine art, and an arts and crafts show, carnival rides, live entertainment and much more. You can even head up the chairlift at Holiday Valley and Holimont for some amazing views of the surrounding hills, ablaze with color!
Fowler's Chocolates 15th Annual Factory Tour: I've got a golden ticket! I've got a golden ticket! And with a golden ticket, it's a golden day!  This is the closest you can get to real-life Willy Wonka tour.  Fowler's Chocolates is offering a self-guided behind the scenes tour of their chocolate factory with plenty of samples!

After Dark Presents: A Day to Remember: Head down to Riverworks this Sunday to listen live to your favorite pop-punk band you started listening to in 8th grade and still are (shamelessly) obsessed with.  You know the classics, the throwbacks, the oldies but goodies, now take a listen to their new album "Bad Vibrations" ~Bad vibes only~ Doors are at 6:30 pm, tickets are $34, it'll be a day to remember! 
Leave a Comment