NOTEBOOK: Kacz limited in Bengals' blowout loss against Whitewater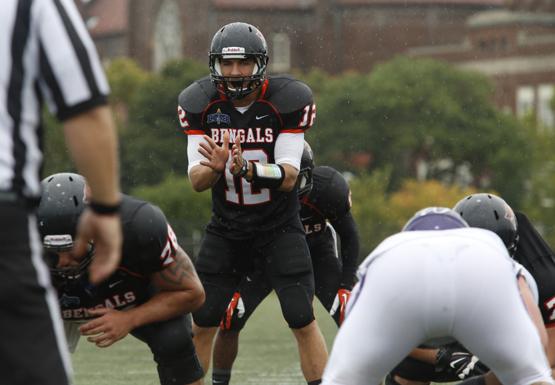 The Bengals entered Saturday's much-anticipated rematch against Wisconsin-Whitewater possessing one of the most explosive offenses in the nation through two weeks.
They scored 41 and 42 points, respectively, in their first two games — both wins —but struggled mightily against the No. 15 Warhawks at Coyer Field. In the 55-14 loss, Buffalo State managed just 182 yards, and a chief factor for that was an injured Casey Kacz, the senior quarterback who had 805 combined total yards on the year before Saturday.
Kacz, nursing an undisclosed injury, admitted after the game that he was not 100 percent, and was a game-time decision to even play. Consequently, coach Jerry Boyes was forced to go with a quarterback carousel, as three signal-callers made an appearance.
"He made the decision that we were going to rotate, try to spare me some hits," Kacz said. "That's his decision, I felt like I could have played. But coach's decision was to try and rotate quarterbacks to keep me fresh and keep me as healthy as possible going into league play."
Kacz sat out multiple first-half series' and with Whitewater holding a 45-7 lead at the half, he sat out the third and fourth quarter. Prior to being lifted to risk further injury, he went 6 for 13 for 50 yards, while running for 10 more, with a touchdown and an interception.
Primary backup Dave Jacobs started on the Bengals' second drive, already down 7-0, and played sporadically the remainder of the afternoon. He completed 1-of-8 passes for four yards, threw and interception and ran for 31 yards.
Kyle Hoppy, who played pro baseball the last four years, also saw some action, going 0 for 3.
While Kacz knew the importance of defeating a perennial power like Whitewater in back-to-back years — Buffalo State won last year's meeting, 7-6 — he also considered the meeting the least important game left on the schedule because it was out of conference.
Buffalo State's offense looks to get back on track for its Empire 8 season opener against Ithaca on Saturday. Starting with that game, each of the Bengals' remaining seven games will be in-conference, and they are the team's top priority moving forward.
"It's frustrating watching from the sideline, being my senior year and that's the best team we've played," Kacz said. "Now that the game's over, we're going to move on from it. It is a good thing that I didn't take a lot of hits or anything like that. I'm going to rest up this week and be good to go."
Aaron Garland can be reached by email at [email protected] or on Twitter @AA_Garland.
Leave a Comment