Nobel Prize winner and girl's education activist Malala inspires crowd of thousands at UB
There are few 20-year-olds around the world as inspiring as Malala Yousafzai and the enormous crowd in the University at Buffalo's Alumni Arena last night exemplifies this.
Yousafzi kicked off the University's 31st annual Distinguished Speakers Series with an inspiring speech and extensive Q&A moderated by Liesl Folks, dean of UB's School of Engineering and Applied Sciences. The Q&A session lasted about 50 minutes and included questions about her education journey, Malala Fund, her charity that helps young women receive education around the world, politics and even college.
"When we empower (girls) it is not only going to benefit girls and the children themselves but also each and every one of us," Yousafzai said.
Yousafzai is not only the youngest Nobel Peace Prize laureate but also the author of an autobiographical book and the subject of a documentary film, He Named Me Malala.
It's no wonder that a documentary was made about her and that at just 20 years old, she already has enough material to write a book. Her story is nothing short of inspiring and awe-inducing. Her father, a teacher, was determined to give her a fair education even though in her country of Swat Valley, education for girls is not a priority. They are usually expected to just marry, education is not of importance.
"Since a very young age I started believing in myself.. the main reason was my father," Yousafzai said. "When I would say something, when any child would say something, my father would listen."
Throughout her teen years, Yousafzai was banned from attending school after the Taliban took over. So she started writing a blog for the BBC about life under the Taliban regime and became an advocate in Pakistan for girls' education rights. She was then targeted by the Taliban because of her rising resistance and they shot three times on a school bus.
"I was realizing how important my voice was to make change… that is why they wanted to silence me," Yousafzai said .
Yousafzai survived the attack, returned to school and her voice was strengthened more than ever. Since then she has started the Malala fund, became a powerful activist, won the Nobel Prize and now has a national holiday in Pakistan named after her, "Malala Day."
An audience member asked Yousafzai about her goals at Oxford University, the college she will be soon attending where she will be studying philosophy, politics and economics.
Yousafzai answered that she is "really excited" and humbly explained the happiness she felt when she was accepted, admitting she had been nervous. Yousafzai then turned the tables and asked the audience member "do you have any advice for me?" to which the member responded "my advice would be to just talk to as many people as possible, things are going to happen that will open your mind in ways you never imagined…and enjoy it, it's only a few years."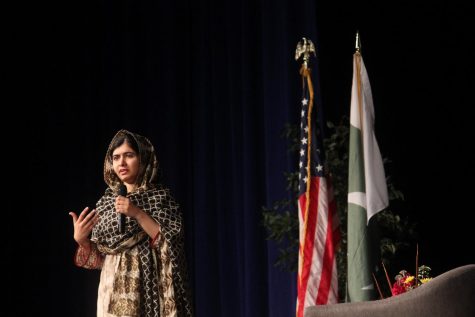 Yousafzai addressed Islamaphobia and stereotypes surrounding Islam in society.
"This diversity is beauty and I'm so happy to know so much about different people from different parts of the world, different countries, different religions," Yousafzai said. "Rather than following the news, to know Muslims you should actually go and knock on the door of you next door Muslim neighbor. Talk to them, ask them questions, that is how you can know what Muslim is like."
She also addressed the issue of extremism and the Taliban, saying that they are still present in much of Pakistan and Afghanistan.
"(The Taliban) is not just people, it is an ideology. An ideology that denies women's rights, that denies education. An ideology that does not accept human rights, an ideology that believes in using weapons. An ideology that uses terror and uses fear against people," Yousafzai said. "We have to empower our new generation through education.. these young children are so vulnerable to these ideologies, these extremist ideologies, when they're not in school."
A UB student asked Yousafzai about the intolerance and discrimination toward refugees. She said it was "unfortunate."
"You don't become a refugee by choice. It is conflicts, it is wars that make you a refugee. So first we need to understand what refugee means," Yousafzai said.
One audience member asked Yousafzai about her reputation in Pakistan and about the negative comments made by people who think Yousafzai is doing all of this for political gains, or believing a conspiracy theory that the attack on Yousafzai was staged, or believing that she has become too "westernized."
After Yousafzai opened her Twitter account a couple months ago, she was met with an onslaught of angry tweets from Pakistanis expressing hatred toward her, saying that she is not special and that many suffer worse than her.
She explained that only a small amount of people are even on social media in Pakistan. She also addressed the controversy by saying she does not advocate for western ideals, she advocates for human rights and equality. She acknowledges how this might be "shocking" for some.
"They cannot tolerate a woman speaking up," Yousafzai said.
The last question of the evening was regarding a comment Yousafzai recently said about how educating girls can help slow down climate change.
"So, first of all, climate change is real," Yousafzai said. "Education comes with awareness. When you educate girls, it brings awareness in their community and they are more likely to save water, more likely to save energy."
Yousafzai went on to say she is surprised climate change is rejected in some parts of the world and that, "education is important because maybe they need education."
Leave a Comment
About the Contributor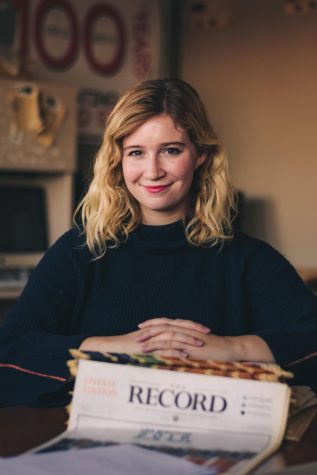 Francesca Bond, Executive Editor
Francesca Bond is an undergraduate student at SUNY Buffalo State. She has a major in Journalism and a double minor in Sociology and Political Science....