Bike, run, rock and roll this weekend with Step Out Buffalo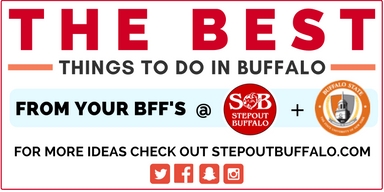 Ellicottville Rock n' Roll Weekend: All weekend long enjoy live music and entertainment in all your favorite bars and restaurants in Ellicottville village. Spend time walking in and out of all their eclectic shops and boutiques while listening to regional musicians and munchin' or sippin' on something tasty. But don't miss out on the car show Sunday to check out the coolest rides in the area.
Tour de Farms: Register now for the 9th annual 30-mile bike tour that starts and ends in the city. Riders will visit urban farms and community gardens in the city in support of Go Bike Buffalo and Massachusetts Avenue Project & Growing Green, cool right!? The ride ends at Oles Family Farm in Alden, NY with a celebration filled with food and drinks. And don't worry, you don't have to ride back (unless you want to!) a bus will take you and your bike back to the start.
Quaker Arts Festival: Come on down to the Southtowns this Saturday and Sunday for one of the area's largest arts festivals. The Orchard Park Middle School campus is hosting 300 artisans and craftsmen of every trade. You'll find jewelry, photography, wood carvings, pottery, and much more. Oh and, of course, don't forget about the food trucks! Yum! Get something for anyone (including yourself!) at the Quaker Arts Festival.
5th Annual Toss4Dystonia: For the 5th year running, the Dystonia Medical Research Foundation is holding the LARGEST Cornhole tournament in Western New York! Test your Cornhole skills this Saturday at Buffalo Riverworks with two levels of competition. Sign up a team now or just watch, general admission is free! Its free to get in and you have the chance to win from a variety of raffles there too! Why aren't you signed up already???
Second Annual Meatball Street Brawl: Ding! Ding! Ding! It's time to crown Buffalo's Meatball Street Brawl Champion. Who has the best traditional meatball? Who has the best freestyle meatball? A panel of celebrity judges will decide between 18 Buffalo area restaurants. But bring your taste buds and a hungry belly because attendees can make their favorites known in the Fans' choice vote for Best Overall Meatball!
Find more weekend ideas and Buffalo guides at Step Out Buffalo: https://stepoutbuffalo.com/tag/step-out-college/
Leave a Comment