One professor's mission to supply tampons to students in need
Professor Bridget Chesterton, history department, is on a mission.
A mission to fulfill an overlooked issue on campus for women: affordable and accessible sanitary products.
Chesterton used Facebook to voice her frustration and after her post when viral, now has at least 4,000 tampons and sanitary pads on their way to SUNY Buffalo State over the next few days.
"We have a problem at Buffalo State… we're not addressing the biological and real economic needs of women," Professor Chesterton said.
Chesterton noticed this issue last semester and decided to take matters into her own hands. She created a "tampon center" made out of an old TV stand and a plastic office container, decorated it with colorful, fake flowers to make it more inviting and placed it outside her office in the Classroom Building for students to take products as necessary.
Not everyone was a fan of Chesterton's tampon collection.
One administrative official told her it would intimidate and "disturb the men" who wanted to enter her office.
Chesterton did not let that statement inhibit her. Her next placement for the center was the women's bathroom, where women could access products easier and when they actually needed them. However, she was told she could not have it there either because students would steal the tampons or the whole center.
"They told me it would cost me too much money to provide tampons for women because so many women would steal them," Chesterton said. "I don't know what [the administration] means by stolen, you mean used? I don't really know that many women who like to steal maxi pads… You don't normally steal tampons and then sell them on the black market. They usually get shoved up women's vaginas."
After being told she could not have her tampon center in her office or in the bathrooms, she got clearance to have it in the Dean of Natural and Social Science office. There would be signs put up in the bathrooms directing students to the Dean's office if they had an emergency and needed a product.
This was not good enough for Chesterton.
"If you have an emergency situation you need a freaking tampon! Who wants to run to the Dean's office and have to ask for a tampon?" Chesterton asked.
Chesterton shared her frustration with the placement of her tampon office and the lack of sanitary products on campus in general in a post on her Facebook page yesterday and her post went "semi-viral."
After getting many shares and comments on her post from outraged friends and strangers, Chesterton's friend suggested she create an Amazon Wishlist to give people an option to personally help out and donate tampons and pads.
She has had at least 4,000 tampons and pads donated so far. It has been one day.
Chesterton does not know many of the people donating supplies, but she is "flabbergasted" and "thrilled" at the response.
"Clearly, people understand there is a need," Chesterton said.
Her ambition is to get sanitary products in women's bathrooms throughout campus, but another objective of hers is to start a conversation about women's needs. She stated that Buffalo State has many first-generation students that do not come from wealthy backgrounds and may not be able to easily afford sanitary products.
"The fact that we don't have tampons or pads, even vending machines available to women on campus is a huge problem and I'm just trying to address this problem in my own little individual way," Chesterton said. "It's not enough. But I guess it's a start, and maybe we can have a conversation about female supplies."
She says she has seen many bathrooms on other college campuses with access to tampons and pads, and she would like to see more support from the campus in general because "we need it."
The Weigel Health Center does provide sanitary products to students for free, but Chesterton would like to see these products be accessible all around campus.
Chesterton is being allowed to supply the three bathrooms in the Classroom Building with donated tampons and pads because "she has enough in case they are stolen."
"If anybody would like to contribute to the tampon center please donate. We will take contributions and I will make sure that women who need them get them," Chesterton said.
You can find Professor Chesterton's Amazon Wishlist here: https://www.amazon.com/hz/wishlist/ls/2NYZZNW2AMQLB?&sort=default
Leave a Comment
About the Contributor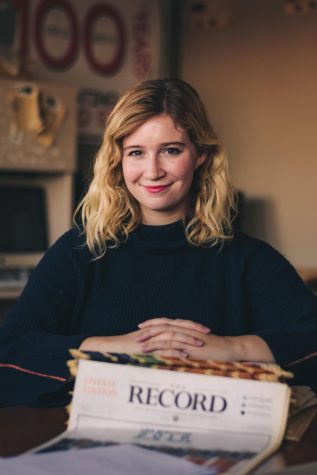 Francesca Bond, Executive Editor
Francesca Bond is an undergraduate student at SUNY Buffalo State. She has a major in Journalism and a double minor in Sociology and Political Science....