Sen. Gillibrand holds Town Hall at Buffalo State
Sen. Kirsten Gillibrand, New York, hosted a town hall meeting in Rockwell Hall during which she answered questions at random from citizens of Buffalo this evening.
The Democratic junior senator was introduced by Buffalo State President Katherine Conway-Turner, after which she stated her belief in the importance of Town Hall meetings. The Town Hall drew around 600 people to campus to voice their concerns and questions directly.
"The fundamental truth about our democracy is that it really only works when regular people stand up and demand action," Gillibrand said.
The Senator opened with remarks about health care, specifically the recent failed attempt by Republicans to repeal Obamacare. Gillibrand opposed repealment of the bill, saying many New York citizens would have lost health insurance coverage and that she would like to implement a "medicare for all system."
Once the floor opened for questions, Gillibrand was asked about many hot-button topics such as planned parenthood funding, budget cuts, minimum wage, medical marijuana, the transgender military ban and the well-being of the democratic party.
To those issues, Gillibrand expressed her support of Planned Parenthood, increasing taxes on the rich and tax cuts for the middle class, making medical mairijuana more accessible to patients who need it and increasing minumim wage to $15 an hour with no "tipping wage." She also said she is working with Sen. Susan Collins, a Republican from Maine, to overturn the "very hateful" transgender military ban imposed by President Trump.
During one particularly poignant moment, a concerned high school sophomore girl asked the Senator how a "majority male Senate [can] effectively take on women's rights issues."
"I agree with you. The absence of diversity in the US Congress is a huge problem. With only 18% of women in the House and only 20% women in the Senate and very few Senators of color means that a lot of issues that should be raised aren't being raised… we're not representing the country well enough," said Gillibrand, a champion of women's rights and one of only 21 women in the Senate (79 men).
While Gillibrand gracefully skirted around the topic of President Trump directly, when asked whether or not she and fellow Democratic Senators would invoke the 25th amendment and impeach Trump, Gillibrand answered frankly, "No."
"But I can say this: I don't think all Republicans, certainly not Democrats, agree with everything he's done, and I've had many conversations with my colleages about ways we can do things outside of what the President's agenda covers, because I think a lot of the things he has tried to do makes many people uncomfortable," Gillibrand said.
She voiced her disapproval of the President attacking the free press, judiciary branch, transgender people and Muslim Americans.
Gillibrand encouraged attendees to call their public officials regarding issues important to them. She cited citizen action as the reason that three republicans decided to vote against the repeal and replacement of Obamacare. "We cannot grow tired and we cannot grow weary," she said.
"Every time you march — no matter where it is — someone's watching, someone's listening. If we stay silent at a time such as this, we are all to blame," Gillibrand said.
email: [email protected]
Leave a Comment
About the Contributor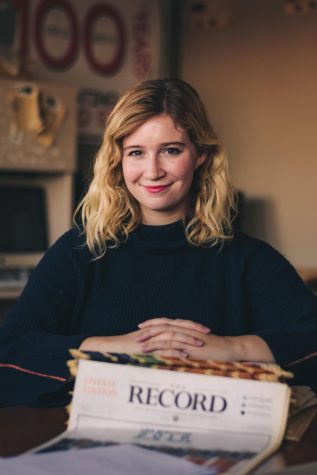 Francesca Bond, Executive Editor
Francesca Bond is an undergraduate student at SUNY Buffalo State. She has a major in Journalism and a double minor in Sociology and Political Science....