Broadside Takes Us to Paradise on New Album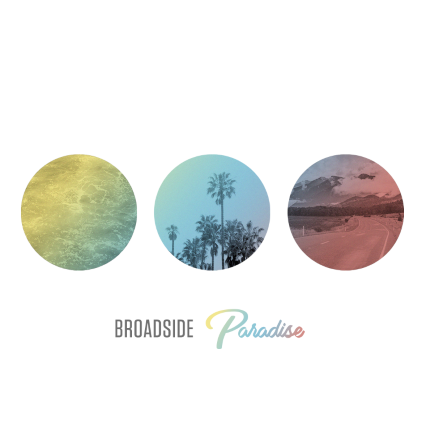 Leaving Richmond for Los Angeles was the greatest thing Broadside could have done in their career so far.
Now a west coast pop punk band, Broadside, composed of vocalist Ollie Baxxter, guitarists Dorian Cooke and Niles Gregory, and bassist Pat Diaz, shine bright and go hard on their sophomore effort perfectly titled Paradise. The band stepped out of their comfort zones and decide to show how much the band has changed since their 2015 debut Old Bones. While not much has changed for the group, the band seems to sound happier and more confident on each of Paradise's eleven tracks. Listen to Old Bones then Paradise and you should hear the difference.
On Paradise's opening track, "Hidden Colors", you can clearly tell that their move from the east coast to the west coast was for the best. The happy, summer-ish vibe that radiates off the three minute track just screams "Song of the Summer" material. The cute synth sound mixed in with the band's trademark style just sounds so beautiful that I'm surprised more bands don't use this. And the summer vibe doesn't stop there, it can be found throughout Paradise.
Throughout the album's eleven tracks, summer can be heard very clearly. From the Warped Tour banger "Lose Your Way" to the slow jam "Summer Stained", Broadside have found that line in pop punk music that is both "pop" and "punk". In a genre filled with generic bands that want to sound like Fall Out Boy, Good Charlotte, and Blink-182, Broadside want to break down these barriers and find the harmony between "pop" and "punk" as previously stated.
Some of Paradise's solid tracks have to be "Puzzle Pieces", which sounds like a B-Side to Yellowcard's When You're Through Thinking Say Yes, "Laps Around a Picture Frame", one hell of a killer pop-rock song that wowed me the first time I heard it, "Summer Stained", an acoustic track which later has the whole band chime in towards the end, and "Tunnel Vision", which sounds like a song that every late 2000s pop punk band on Hopeless Records wrote (Anarbor, There For Tomorrow, All Time Low).
While all these tracks are fantastic, there are some interesting choices of instruments on the album, such as the horn section on "Puzzle Pieces", sounding like a Driver Friendly track and fitting in perfectly with Broadside's style and "I Love You, I Love You, It's Disgusting", a beautiful closer to the album that features a ukulele and Baxxter's vocals soaring over the tropical strumming of the uke.
Overall, Paradise is one of the most unique pop punk albums of the decade. Broadside no longer want to sound like every band in this scene and realized that it's best to stick out like a sore thumb than to sound like another band that acts like Yellowcard or The Story So Far. Paradise is no doubt the album that you really need for the soundtrack to your summer.