Hockey Fights Cancer night 2022
Scott Dugas , Sports Writer and Photographer
November 15, 2022
BUFFALO, N.Y.- It's not every day in Buffalo, N.Y. that the Keybank Center fills up.
Between Covid-19, ticket price inflation, the current financial recessions and the Sabres inability to make the playoffs for the last decade, it's a special sight to see every seat filled in the arena.
The Buffalo Sabres hosted the Boston Bruins in a Saturday night faceoff commemorating the fight against cancer.
Hockey Fights Cancer is an organization recognized by the NHL as being the leading charity fighting cancer though hockey. Every year, all 32 NHL teams suit up one night in November in their purple jerseys and stick tape for warmups. All game proceeds go to local cancer research hospitals.
Buffalo's head cancer research hospital is Roswell Park, located at 655 Elm St. Roswell has been leading cancer research in America for decades.
The Bruins and Sabres face off against each other a handful of times throughout the season. With Boston's flying start to the season, they were the favorites to take this matchup.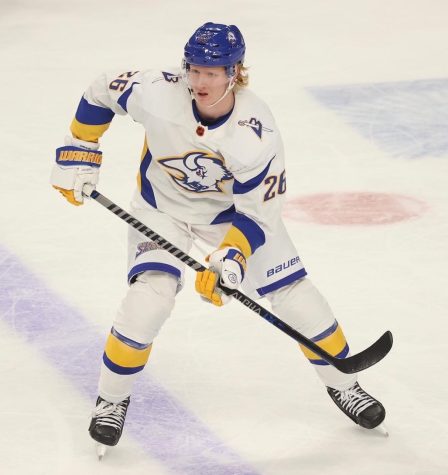 With the game starting at 7:00 p.m., the puck dropped to a packed crowd.
The Sabres wore their new reverse retro jerseys, with the arena full of both Boston and Buffalo fans eager to see their team strike first.
Luckily for the Sabres, that time would come almost immediately in the first period.
Shorthanded, Tage Thompson of the Sabres would swoop in over the blue line, beating the Bruins defender for a smooth backhand/forehand tuck to open the scoring.
Although there wasn't much scoring for the first half of the game, the Sabres put up a lot of shots on Bruins goalie Linus Ullmark. Staying strong, Ullmark turned aside the rest of the shots.
It wouldn't be until late in the second period, but the Bruins would eventually get their skates under them and Patrice Bergeron would tally the first goal for the Bruins.
After the Bruins first goal, they were unstoppable.
Outshooting the Sabres in the third period, the Bruins would keep pressuring the Sabres until they made a mistake.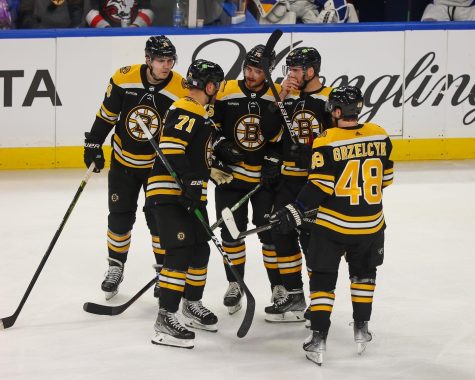 Midway through the third period, Jakub Zboril of the Bruins would score the Bruins second goal and later on Bergeron would score his second goal after a coach's challenge by Buffalo would fail late in the third.
The game ended with the Bruins on top 3-1, thus extending their winning streak and keeping the motivation high for their next game against the Canucks on November 13.
The Sabres play the Canucks on November 15 and hope to bounce back to even up their record.