Spend your weekend eating fair food, listening to good music and enjoying local art with Step Out Buffalo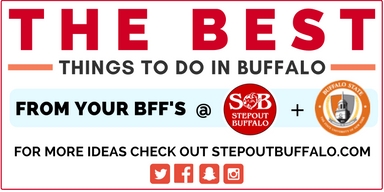 It's that time of summer again. The fair's gravitational pull will reel us right in with its delish fried foods, games & rides. From Wednesday August 9th-Sunday August 20th, don't miss out on all the fair glory.
The Earth without art is just "eh".  Feast your eyes upon over 175 artists and fine crafters' work this Saturday and Sunday at the Lewiston Art Festival. Oh and you'll want to bring your wallet too in case you want to splurge on any artsy items.
Goo Goo Dolls At Darien Lake
The band we all love who originated in Buffalo is coming back with American Idol winner Phillip Phillips to open the show."So why don't you slide" on over to the venue this Saturday. We hope you get the song reference.
Food food and more food. This Saturday and Sunday come stroll the beautiful streets of Ellicotville while munching on what some of its fine restaurants have to offer.
For more information on these events and more, visit Stepoutbuffalo.com/Buffstate
Leave a Comment